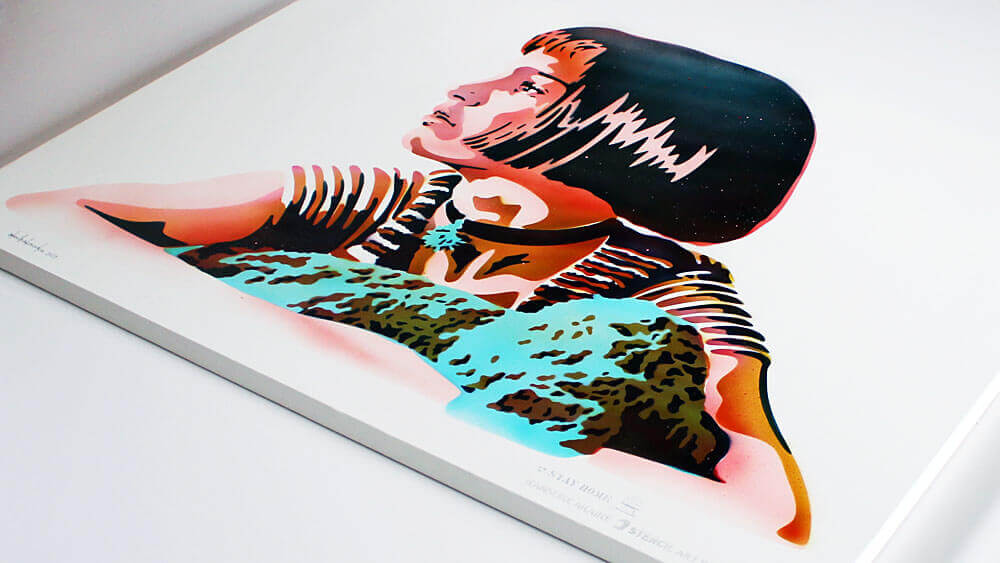 We are excited to announce that the canvas versions of "Mathilda with a Doll" and "Mathilda with a Plant" (referred to as the "Mathilda Series") created by Japanese artist Kansuke Akaike are now available on our site.
Both artworks, released as limited edition pieces in June, sold out in a few days. The Mathilda Series has been refined by updating the medium from paper to canvas while maintaining its original elegance and subtlety. 
'Stay home art project' began with Kansuke's yearning to create artwork through this project to be a source of emotional support for people staying at home right now. He has been posting portraits of celebrities requested by his Instagram followers since April 2020 and has, so far, unveiled portraits of 18 celebrities such as athletes, musicians, and movie characters, as recently as December.
Since the Mathilda series was produced based on this same concept, both artworks capture a snapshot of the new-normal world in which we now live. Kansuke's works of art embody a piece of the Corona era that can't be expressed in words. So, if you come across the Mathilda series 5 or 10 years down the road, it might remind you of the tumultuous era of COVID-19.
Kansuke was inspired to create these paintings by a character in a movie. The doll and plant are companions to the girl as well as source of emotional support for her to cling to. Just like her, we often find comfort in inanimate objects to which we become attached. Especially now that human interaction has been limited due to social distancing, it is things rather than people which are helping us to heal our fragile emotions and keep our delicate mental health in balance.
The pieces in the Mathilda Series can also be a source of comfort and healing in your life because they were created with this exact aim. We hope that Kansuke's works of art will bring some comfort into your life.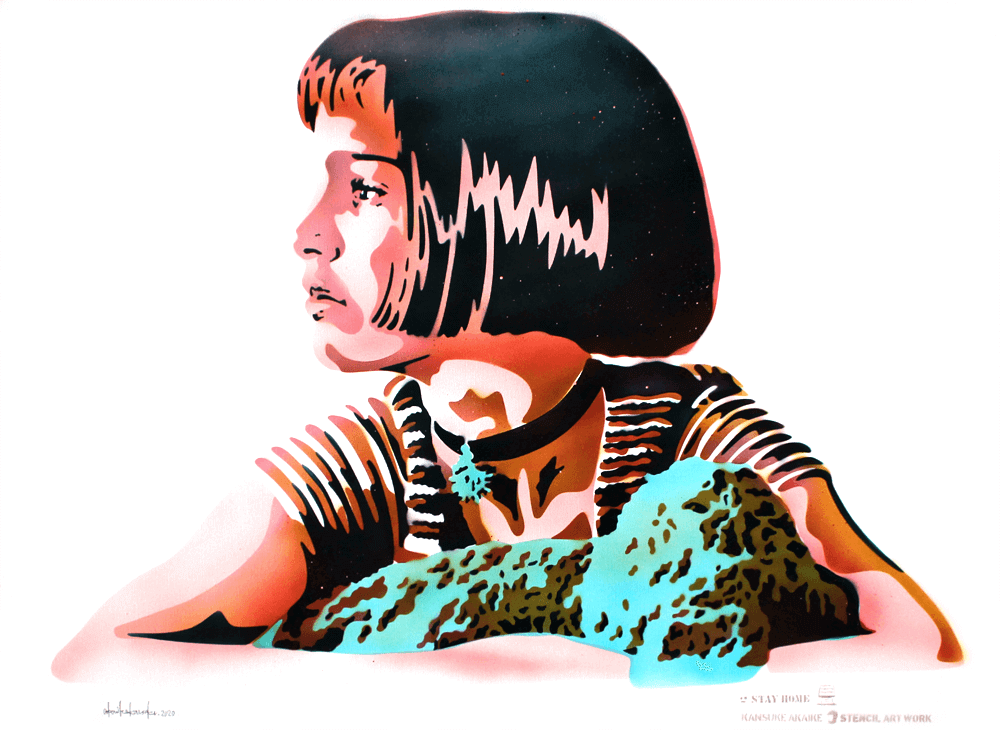 Mathilda with a Doll -Canvas Version-
Medium: Stencil, spray paint with acrylic paint on canvas
Size: 727 × 530 × 20 mm (28.62 ×20.86 ×0.78 inch)
Edition: 1
Signed and numbered
COA: Exist
Year of creation: 2020
¥ 68,000
Purchase HERE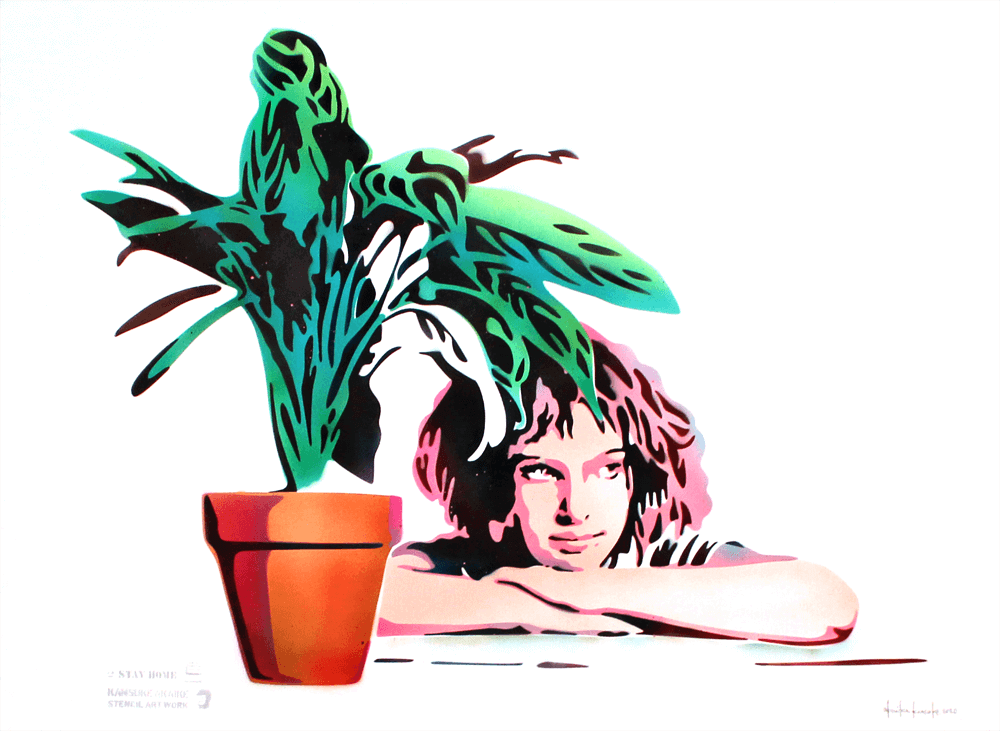 Mathilda with a Plant -Canvas Version-

Medium: Stencil, spray paint with acrylic paint on canvas
Size: 727 × 530 × 20 mm (28.62 ×20.86 ×0.78 inch)
Edition: 1
Signed and numbered
COA: Exist
Year of creation: 2020
¥ 68,000
Purchase HERE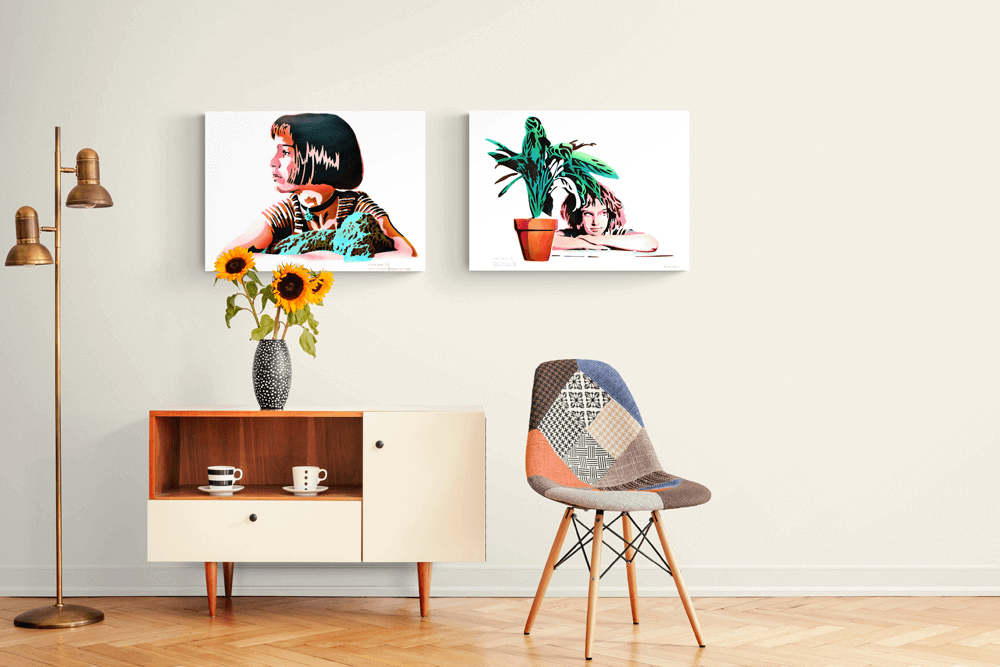 Kansuke Akaike
Kansuke Akaike is an artist who was born in Kyoto, Japan in 1974. His stencil art, delicately depicting realistic expressions of his subjects has been showcased at solo and group exhibitions both within and outside of Japan. His first solo exhibition outside of Japan "Dogs and Drive" took place in Sao Paulo, Brazil in 2007. He changed his base from Tokyo to Shizuoka in 2015. Kansuke then opened his solo show "The Sea for Everyone" in Kanagawa. This show had a theme of highlighting the issue of marine debris in our oceans. In addition to these shows, Kansuke designed posters for Wheelchair Basketball World Challenge Cup 2018 and the Hi-STANDARD x Sky Perfect TV #playthegift Campaign. He started his project "Stay Home Art Project" in April, 2020 where he has been posting portraits of celebrities requested by his Instagram followers
Kansuke Akaike official site
Kansuke Akaike Instagram
Reference:
・DESIGNART TOKYO 2020 official site