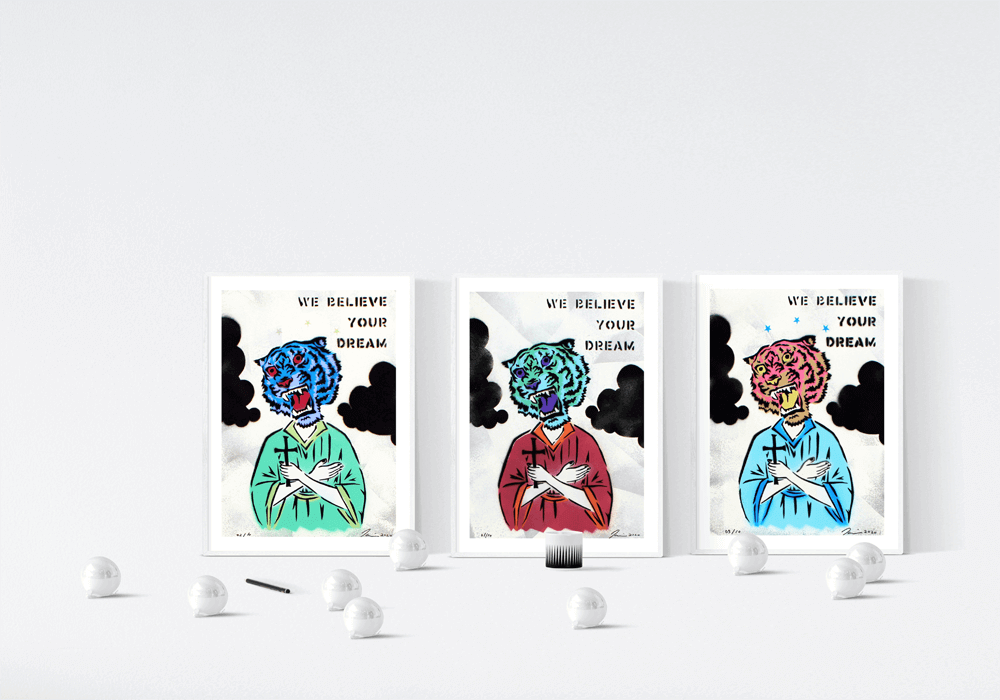 Jet-Black Gallery is pleased to announce that a brand new work of art "Believe Your Dream" painted by Tokyo-based artist Koichiro Takagi is now available on our site. We have released two limited edition versions of the piece, including a regular one, and a special edition in which each piece has a one of a kind colour-way. 
Seeing FAILE's posters in the streets of New York was an opportunity for Koichiro to start interacting with them. He began to use stencils as a medium after meeting them. After coming back to Japan, he discovered and explored embroidery as a medium and has showcased many mixed media artworks made by blending embroidery, stenciling, and painting. While embroidery is an eye-catching technique for viewers, stenciling has had the most vital influence on Takagi's past and current work. 
It all started when Takagi was looking at one of his stencilled images and started to wonder what it would look like if it was embroidered. When he first started embroidering, Takagi embroidered onto cloth using stencils as a rough sketch. Rough sketches for the embroidery are still created in a format in which they can easily be converted into stencils. Stencilling is the core means of expression for Takagi as an artist and "Believe Your Dream" was created using this essential medium.
Taking "Believe Your Dream" as an example, Takagi's works of art frequently contain contrasting elements in a proper balance, such as themes and objects from Western religions alongside texts and tattoos that evoke underground culture. This could be attributed to his unique background -growing up in a Catholic household- which is exceptionally rare in Japan. Takagi's obsession with hard core punk and skateboarding in his formative years also continue to heavily influence his style.
According to Takagi, the image of the robe-clad tiger depicted in the piece is meant to represent a being purifying the negative energy currently filling our world and radiating back hopes and dreams. We hope that experiencing Koichiro's art can give you at least temporary relief of this somber atmosphere that we are all currently dealing with. And let's all do our best to stay safe so we can get back to living out our hopes and dreams.
*FAILE is an artistic collaboration between Patrick McNeil and Patrick Miller in Brooklyn, NY. (Aiko Nakagawa left FAILE in 2006, gaining success in her own right as Lady Aiko)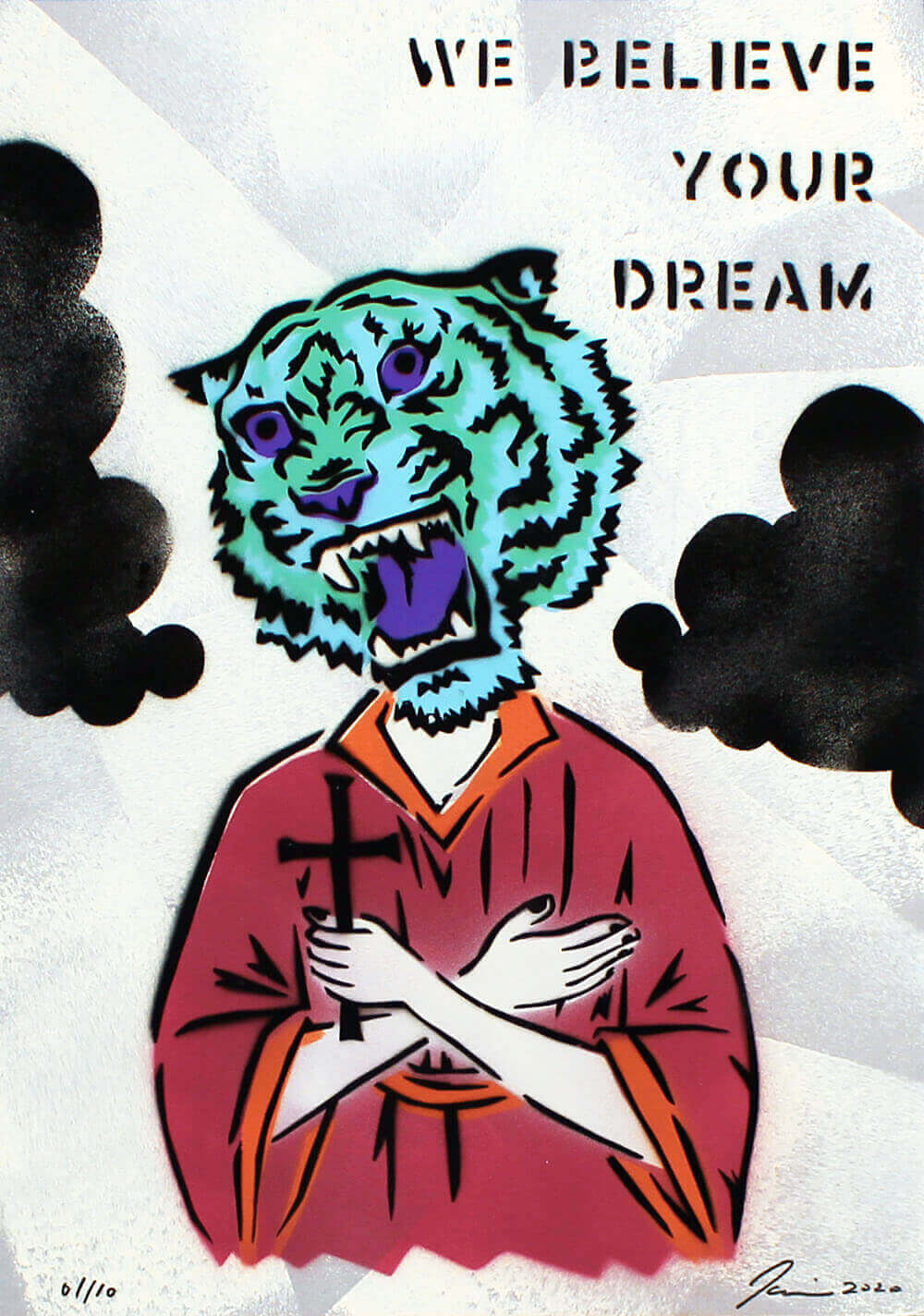 "Believe Your Dream" -Regular Edition-
Medium: Lacquer stencil & acrylic paint on paper
Size: 420 × 297 mm (16.54 × 11.69 inch)
Edition: 10
Signed and numbered
COA: Exist
Year of creation: 2020

¥ 20,000
Sold Out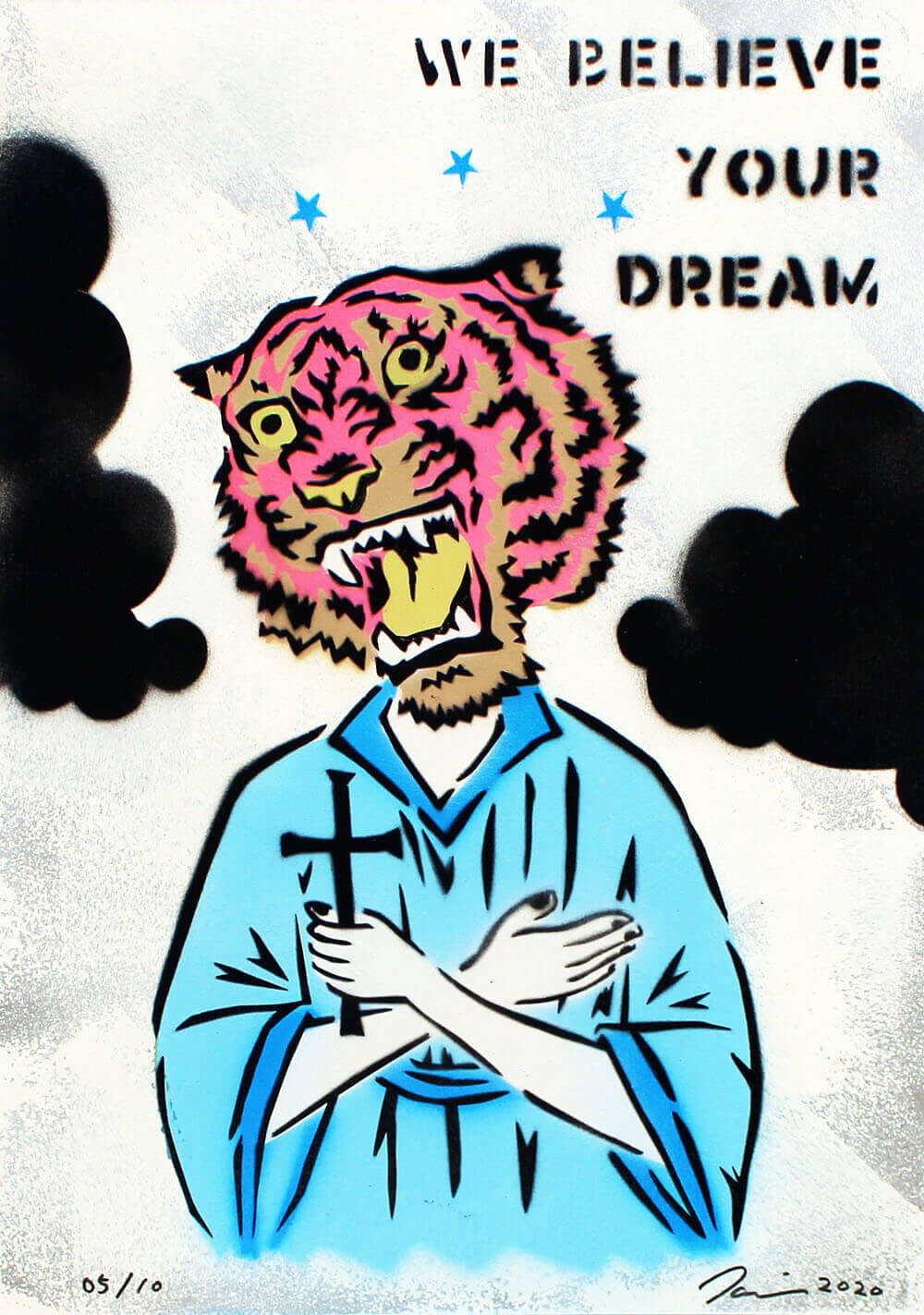 "Believe Your Dream" -Special Edition-
Medium: Lacquer stencil & acrylic paint on paper
Size: 420 × 297 × 2 mm (16.54 × 11.69 × 0.078 inch)
Edition: 10 *The special edition is available in 10 different one-off colourways.
Signed and numbered
COA: Exist
Year of creation: 2020
¥ 24,000
Sold Out

Koichiro Takagi
Koichiro Takagi is a Japanese artist, making artworks on the theme, "uncomfortableness". He creates the bright colored mystic world by distorting and patchworking of the present and the past, the reality and the fantasy. Koichiro Takagi learned silk-screen printing in San Francisco then he moved to New York after graduation from school, and started his career as a painter. Enjoying quite different atmosphere from both the east and west coast of the U.S.A., he has been produced a lot of artworks. In mid 2005 he jumped back to his hometown, Tokyo. He joins many group exhibitions as well as holds some solo exhibitions. He is proficient in graphical design such as Illustration and stenciled spraypainting. Koichiro's designs have been applied to Paul Smith, Beams and others. (Cited from Koichiro Takagi official site)