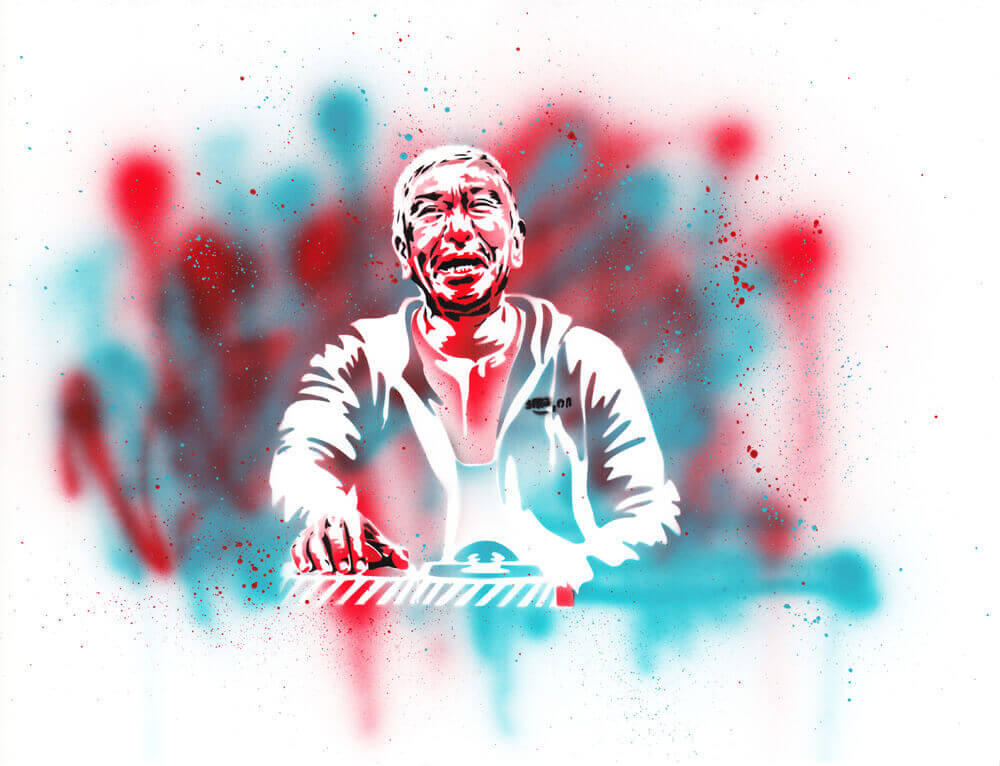 "MATSUMOTO HITOSHI"『HITOSHI MATSUMOTO Presents Documental 8 (Amazon prime video)』2020
Japanese gameshow "HITOSHI MATSUMOTO Presents: Documental (Season 8)" was released exclusively on Amazon Prime Video in Japan on August 21st. Documental is an immensely popular Amazon Original Series that ranked number one overall on Prime Video in Japan in the first half of 2018. Documental, with English subtitles, is also available for streaming up to Season 3. Amazon Prime also produced and released Mexican and Australian (LOL: Last One Laughing) versions of Documental.
For Documental Season 8, Shizuoka-based artist Kansuke Akaike painted portraits of the 11 participating comedians using stencils and an airbrush with acrylic paint. They were used in the show as video materials. We recently interviewed him about his work for Documental. If you enjoy this interview, please follow Kansuke Akaike on Instagram @kansukeminamiizu. Stay safe and healthy.
— HITOSHI MATSUMOTO Presents Documental – Season 8 was released on Amazon Prime Video on August 21st in Japan and your artworks were used in the show. How does that make you feel?
I was fortunate enough to get another opportunity to work with the same film production company that I collaborated with for the "RIZIN 20" video, so I was looking forward to seeing how they would use my artworks for the "Documental" video. I thought that when they introduced the comedians with their portraits and slogans it looked really cool and it was exciting for me.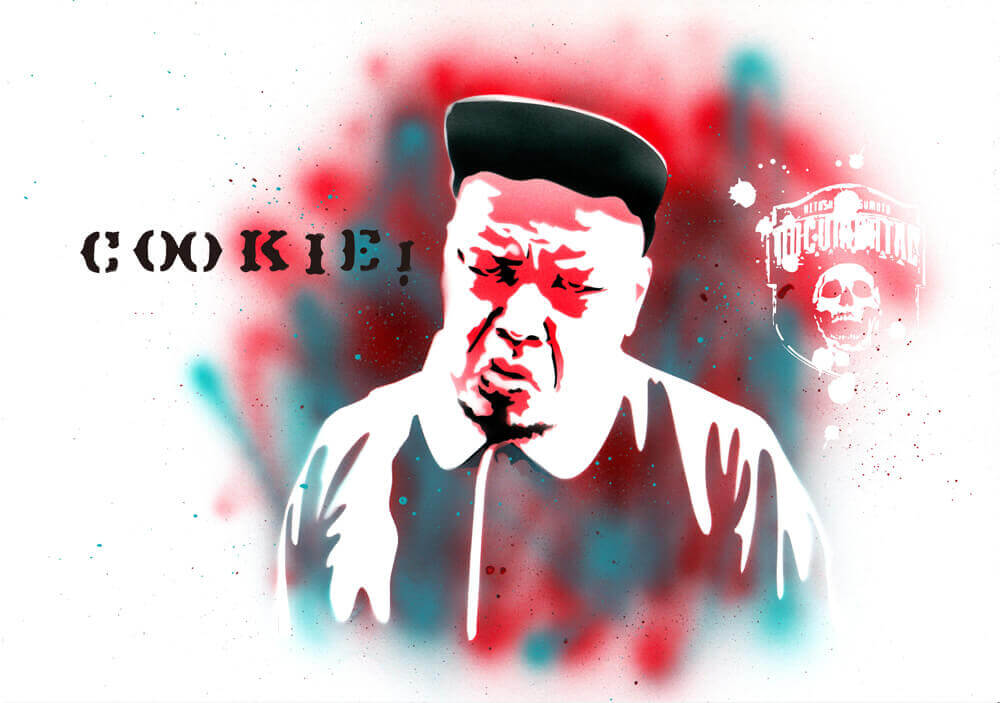 "COOKIE!"『HITOSHI MATSUMOTO Presents Documental 8 (Amazon prime video)』2020
— Did you need to do any special preparation before you started working on the portraits of the comedians?
Since I had already watched and liked this show, I didn't need to do any special preparation for my creations. One of the show's traits is that participating comedians make off-colour jokes which they don't allow them to air on television, so "Documental" is kind of like the comedic equivalent of an underground fight. I therefore wanted to convey the image of the risqué atmosphere that the show has and the different sides of a human face under extreme conditions through my art.

—You ended up painting portraits of 11 comedians in total. Whose portrait did paint first?
I felt that a comedian named 'Cookie!' should be my first portrait because he is considered the most horrifying of the comedians and his comedic style is, to me, the epitome of what the show is all about. Since the portraits are 2-dimensional, I thought his striking appearance, reminiscent of a character in a video game or comic book, would be the easiest for me to render in this style. I also had a gut feeling that painting 'Cookie!' as the first subject would lead me in the right direction for my other creations. I worked on that one first and it worked out as well as I thought it would, and the other portraits flowed naturally from there.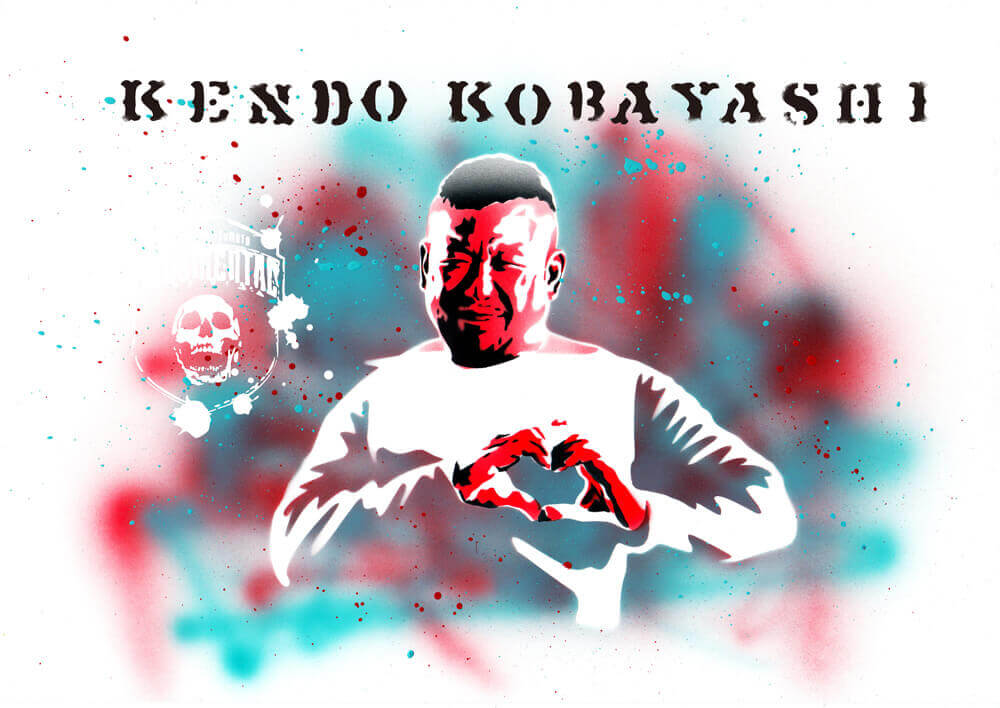 "KENDO KOBAYASHI"『HITOSHI MATSUMOTO Presents Documental 8 (Amazon prime video)』2020
— What was the hardest thing about painting the comedians' portraits?
The hardest for me was painting the portrait of Hitoshi Matsumoto, who is one of Japan's most popular comedians. Since Matsumoto is the leader of this show, I wanted to, through my art, give his portrait the air of the Great King Yama, who (in Buddhist legend) is the ruler of hell. The red parts of his portrait were inspired by devil's horns or fangs and I cut out sharper shapes on the stencil for the red parts compared to other colours and let him have an aura of anger or stinginess. I created the shape of his forehead while imagining the Japanese character DEVILMAN's horns to sharpen the shapes of the red parts.
— The design of the background in your portraits is impressive. How did you come up with it?
When I accepted this offer, it was in March and I was working on a portrait of a celebrity at that time. I was experimenting with adding rough spray texture to the background as one element of this painting. The background design turned out very atmospheric, so I used this same design to create the portraits for "Documental". I finished painting all 11 comedians in one sitting, and then I continued to go with the flow and started my 'Stay Home Art Project'.
"CHANCE OOSHIRO"『HITOSHI MATSUMOTO Presents Documental 8 (Amazon prime video)』2020"
— All of the portraits are made with a limited number of colours. Did you have anything you paid particular attention to regarding your use of colour?
I didn't get detailed instructions for this project from the film production company, who basically allowed me to paint the comedians' portraits freely. I was only asked to keep one thing in mind: that the colour scheme for this season of "Documental" was red and black. When I was paining the portraits through trial and error, how to deal with the colours became one of my themes for my creations. If a portrait was painted in only red and black, I would not encounter any problems since it followed the colour scheme of this season of the show. But I thought that the portraits would end up being too predictable and that was disappointing for me. 
I didn't want to disappoint the film production company but I also wanted to surprise and inspire my viewers through my art as my goal for this project. I wondered what other colour I could use that would surprise and inspire viewers without destroying the integrity of the "Documental" colour scheme and I decided to add blue as the third colour. As a result, adding the blue inspired me to go in a particular direction with my creations and I was able to create cooler works of art than ever before.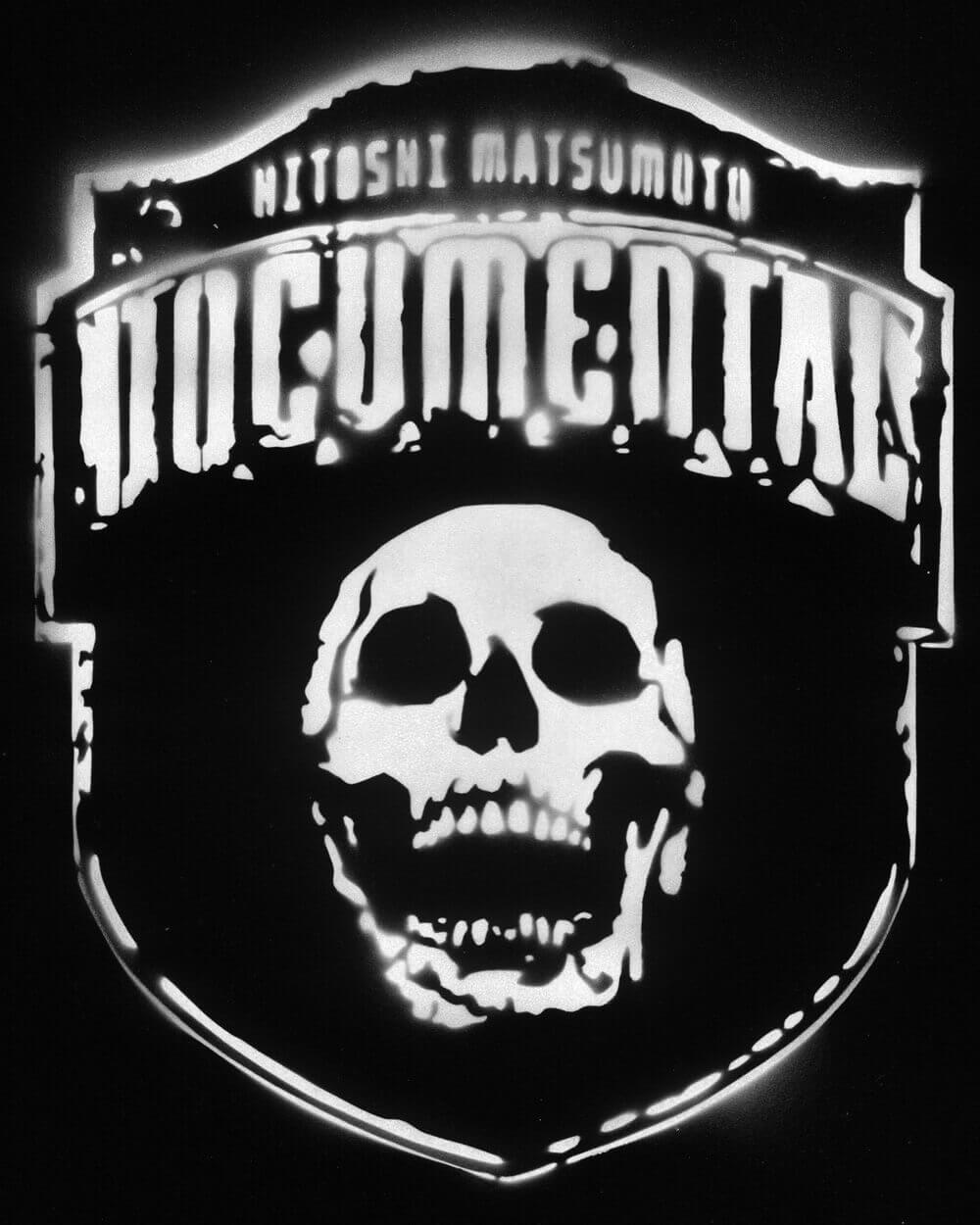 "Stencil Documental Logo"『HITOSHI MATSUMOTO Presents Documental 8 (Amazon prime video)』2020
— Could you tell us if you have any exciting plans for your art coming up in the near future?
I'm currently working on an art piece stenciled on a wooden surfboard made by a surfboard builder living in Minami Izu, Shizuoka. I am also exchanging ideas with the local lumberjack who works as a tree doctor as well to create artworks themed on environmental issues. As the issue of forests and oceans have a common theme of the environment, exchanging ideas with the lumberjack will be a great opportunity to learn more for my marine debris project which I've been working on. In addition, I will be painting a mural at a new facility that is going to open in Shizuoka in November.
I've recently been interested in working with others who have specialized knowledge of creating collaborative art pieces, so I am now in the process of asking others to work on projects with me. I have been creating artwork using stencils for nearly 20 years and as an artist I am still eager to expand what I can do with stenciling and want to explore ways to express myself so that my art can stand out as something original. As an artist I also want to create more opportunities to exhibit my works of art, even under the harsh conditions of COVID-19. 
Kansuke Akaike
Kansuke Akaike is an artist who was born in Kyoto, Japan in 1974. His stencil art, delicately depicting realistic expressions of his subjects has been showcased at solo and group exhibitions both within and outside of Japan. His first solo exhibition outside of Japan "Dogs and Drive" took place in Sao Paulo, Brazil in 2007. He changed his base from Tokyo to Shizuoka in 2015. Kansuke then opened his solo show "The Sea for Everyone" in Kanagawa. This show had a theme of highlighting the issue of marine debris in our oceans. In addition to these shows, Kansuke designed posters for Wheelchair Basketball World Challenge Cup 2018 and the Hi-STANDARD x Sky Perfect TV #playthegift Campaign. He started his project "Stay Home Art Project" in April, 2020 where he has been posting portraits of celebrities requested by his Instagram followers
Kansuke Akaike official site
Kansuke Akaike Instagram