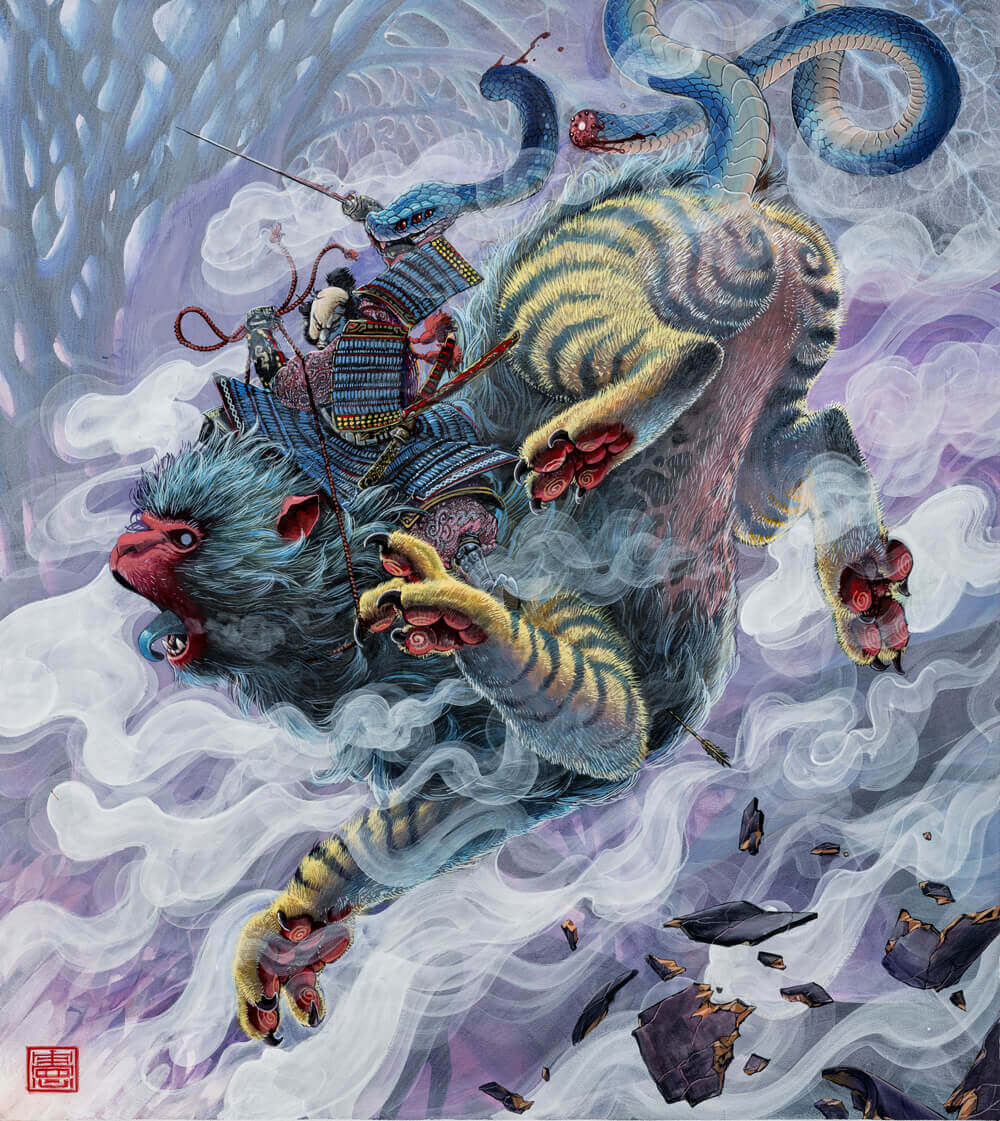 "鵺退治", 2017, ©Kensuke Takahashi

For all you art fans out there, Jet-Black Gallery will now be featuring regular interviews with our favorite artists. The fifth artist we'd like to introduce you to is a man by the name of Kensuke Takahashi.
Yokohama is one of the main port cities of Japan. This has nurtured a unique way of life after an influx of multicultural influence, and this cosmopolitan city is the main playground for Kensuke as an artist. Kensuke creates and showcases a wide range of works including murals, live paintings, and illustrations for companies. He also contributes to the local community through his art. He recently painted an art piece on the monument welcoming visitors from around the world to the Rugby World Cup in 2019 at Shin Yokohama station.
In 2020, Kensuke wrapped up a new collaborative piece with the local company SMILE NEON  which produces neon signs in Yokohama. This mural is the epitome of his ability to create high-quality art and is already fascinating viewers with its dazzling colours and shapes. Kensuke has a keen eye for detail and he is always looking for things he can improve and is always adapting and changing things for the better every time he paints. As an artist, his technique is continually evolving. If you enjoy this interview, follow Kensuke Takahashi on Instagram @kensuketakahashi1977.art. Stay safe and healthy.

— Please tell us a little bit about your background.

My name is Kensuke Takahashi and I am a painter and an artist.

— What inspired you to become an artist?

There wasn't one specific thing, but I was tired of living my life with no ambition so I just made up my mind to become an artist.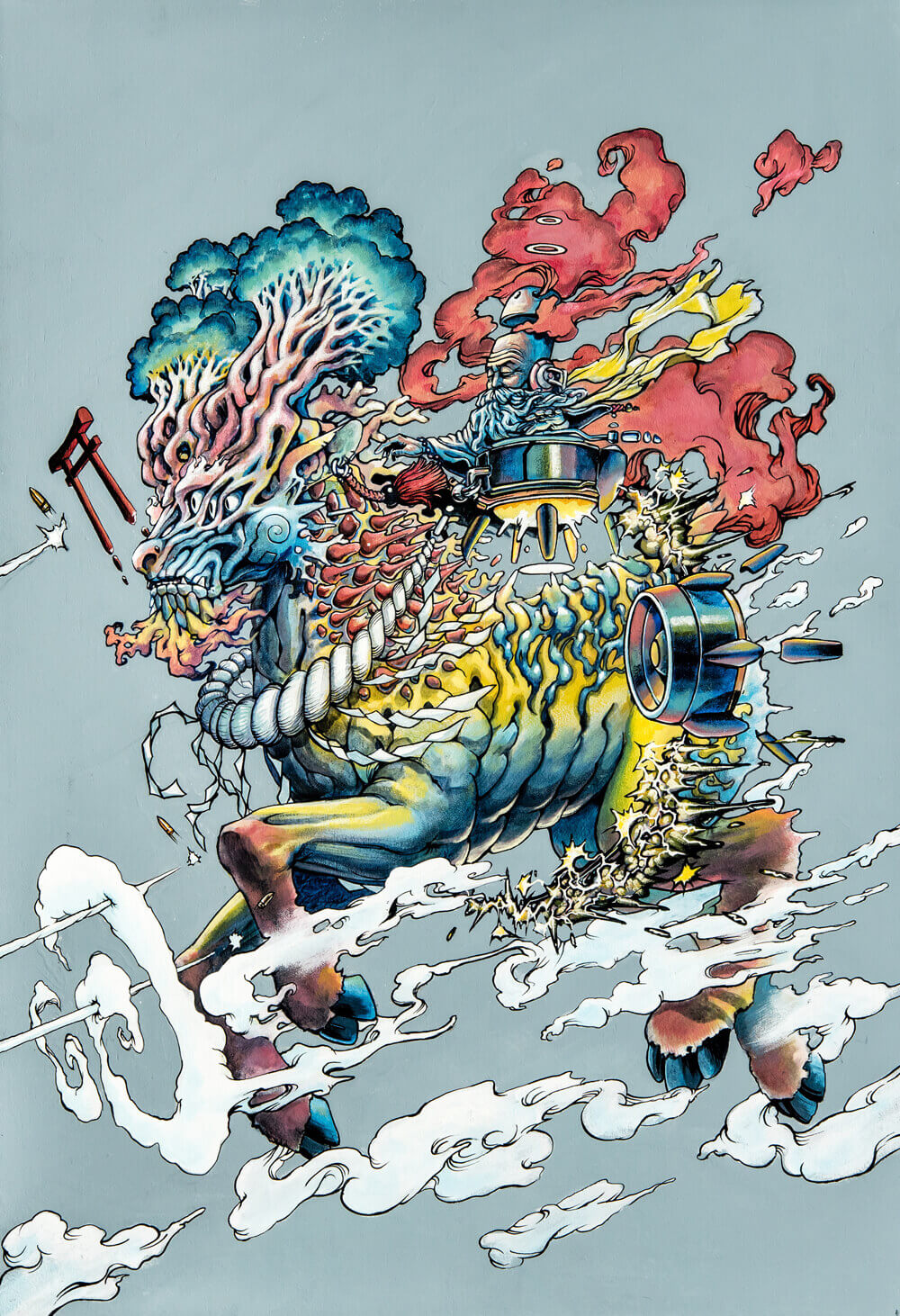 "麒麟", 2016, ©Kensuke Takahashi
— Please tell us the most important things on your mind when you are creating your art.

I try to keep in mind that I am striving to create a better piece than in the past. It's not easy to do that though. Although I think I am giving it everything in my power at the time, I'm never completely satisfied after finishing an art piece. Since I can't start over again, I think about how I could improve these areas the next time I paint. I realize that I will never be able to create a perfect work of art in my lifetime, but, as an artist, that never stops me from aiming to paint a perfect piece of art. That's why I keep trying to improve the parts of my previous paintings which I wasn't completely happy with. 

— The way you use colours in your art is mesmerizing. What are you thinking about when deciding on the colours for your pieces?
 I've always struggled with choosing colours for my pieces. I have a vague image in terms of colours, but it doesn't always work out that well. It's hard for me to choose appropriate colours every time I paint. I usually start by drawing a quick sketch after a rough image comes into my head. I can see the lines of the painting in my mind but the colours don't work the same. I think that there are some artists capable of seeing an image with both lines and colours. I suppose that these artists would have a good sense of colour. In my case, since the colours of a painting don't come to me, I need to constantly be testing different colour combinations and following my vague sense of the colours. I think that it would be much easier if I could decide on the colours in a painting in the first shot.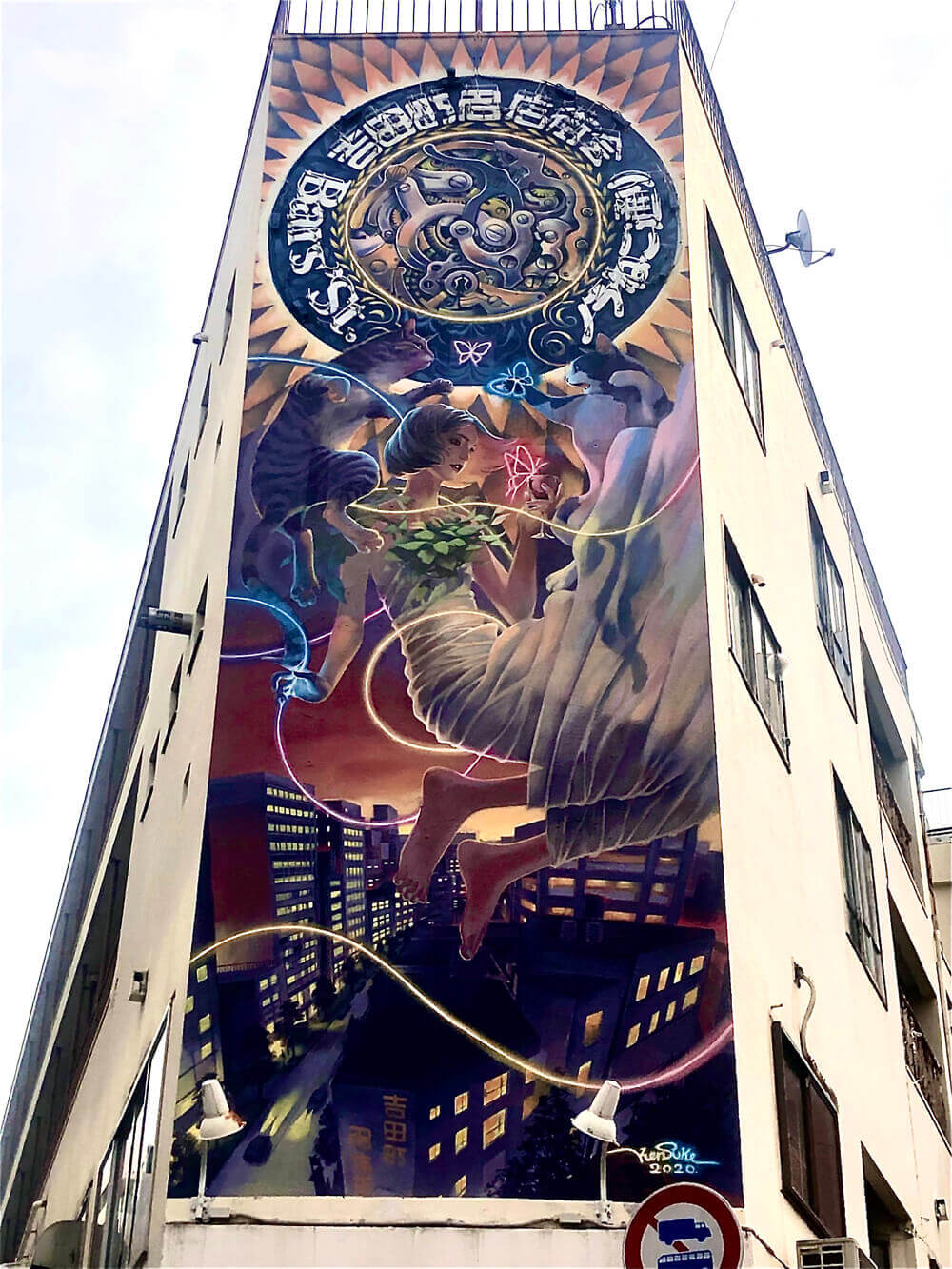 The mural painted at the chicken specialty  shop Umeya in Yoshida-machi, Yokohama, 2020, ©Kensuke Takahashi

— You completed a big mural in Yokohama in 2020. Did you encounter any difficulties in the process?
I actually encountered many difficulties trying to finish painting that mural. Since the scaffolding was built on a public road, I wasn't legally allowed to remove the safety nets, so I wasn't able to see my mural from a distance. And I had to climb up the side of the scaffolding because it was too narrow to install a ladder. Also, in this piece I had to paint around the neon cable lights, because they were installed first, so I had to be careful not to break the cables. And I had to be extra careful not to drop anything because people were walking below me on the road. I had a lot of things to pay attention to while I was painting.

— Was there anything you were trying to keep in mind while creating this mural?
Yoshida-machi, part of Yokohama where I painted the mural has a more sophisticated atmosphere than nearby Noge-cho just across the river. I thought I wanted to paint a mural with a chilled out vibe. In addition to the vibe, I made a conscious effort to make it look elegant to fit in with atmosphere of Yoshida-machi.

— You are from Yokohama, Japan. In what ways do you think that Yokohama's distinctive culture affects your art?
Although the distinctive culture doesn't affect my art directly, discovering murals, and live painting which I have been doing recently, have been very valuable influences on my works here.  It's not just a Yokohama thing, but here I can easily run into my favorite artists and they are always showing me the various places where artists can express themselves in Yokohama. These are the strengths of being based in Yokohama.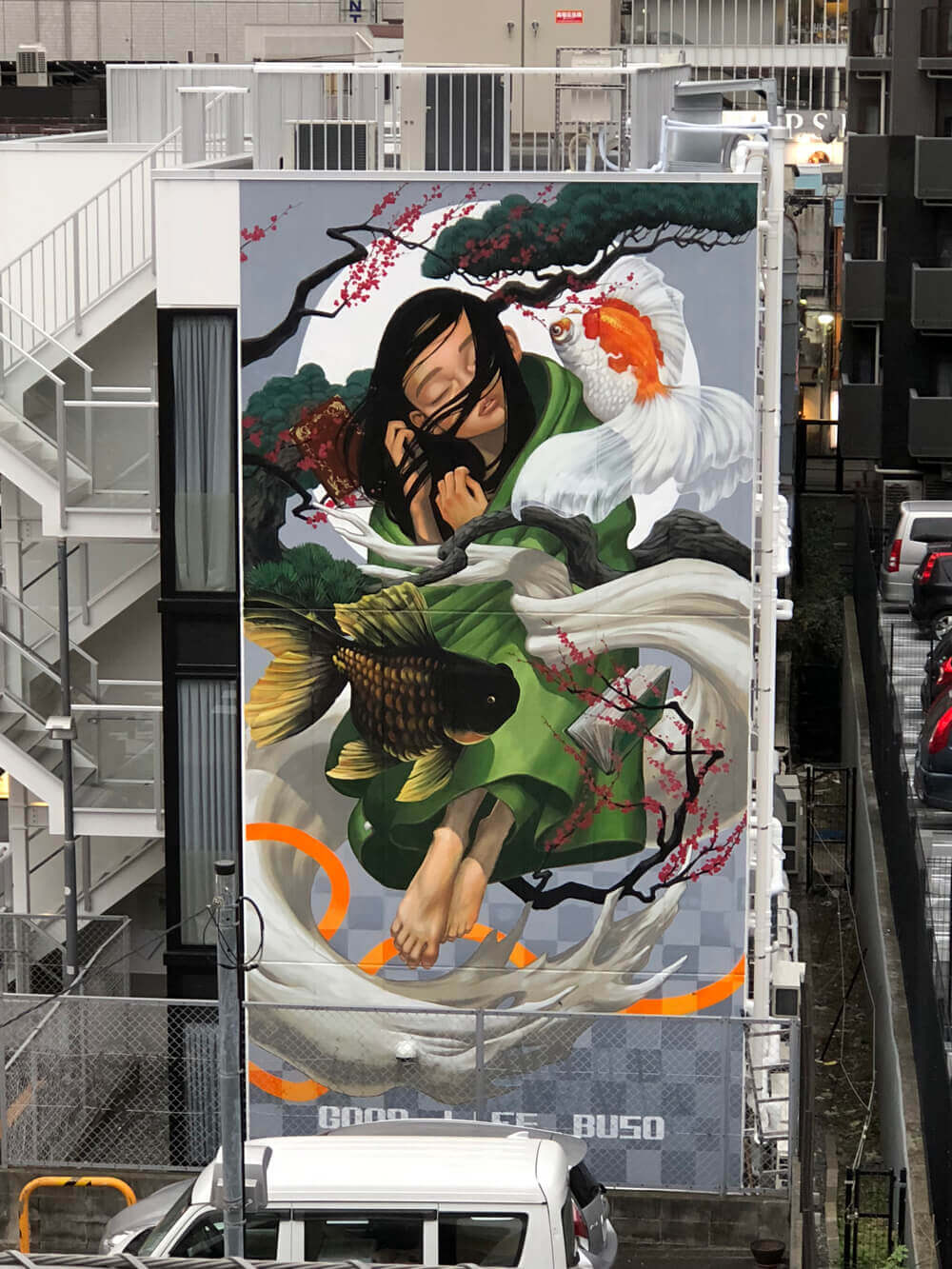 The mural painted at BUSOAN Library & Hostel in Machida, Tokyo, 2018, ©Kensuke Takahashi

— Do you have any specific influences that you can relate to on an artistic level, such as other artists, musicians, authors, etc?
There are too many artists to name. I was influenced by Japanese manga artists Akira Toriyama and Katsuhiro Otomo when I was a kid. I suppose that I was inspired by many things including music and movies and browsing through pictures of murals painted overseas. I always think about how I can improve myself by having new influences.

— Could you tell us if you have any exciting plans with your art coming up in the near future?
A new pedestrian area is being built soon at Yokohama station, and I am going to paint a mural there.  There will be three spots in total painted by Japanese artists. The other two artists are Doragon 76 and Yusuke Hanai. I am really looking forward to it.

Kensuke Takahashi
Yokohama painter, illustrator and designer. Starting from infancy, he began familiarizing himself with the fine arts, and in 2005 he began to earnestly pursue a lifestyle in said field. Naturally, with artistic capability and freedom of creativity, Kensuke goes outside the box to provide an ample amount of material for festivals, events, business illustrations, jacket designs for musicians, etc. As such, the breadth of his activities is large and diverse. In 2012, Kensuke first held a one-man show locally in Yokohama. Following which, his work echoed throughout Tokyo and even to Nagoya. Kensuke primarily contributes his artwork to Roland, which includes: Visual artwork for new products of the "Aira Series"; as well as Yokohama Brewery's limited label design, Rickie-G's "follow your heart" jacket design, and Yu Mamiya feat. El Da Sensei "HOW I WRITE IT"'s 7 in. jacket illustration, to name a few. (Cited from Garden Grove site)
https://www.garden-grove.biz/
https://www.instagram.com/kensuketakahashi1977.art/