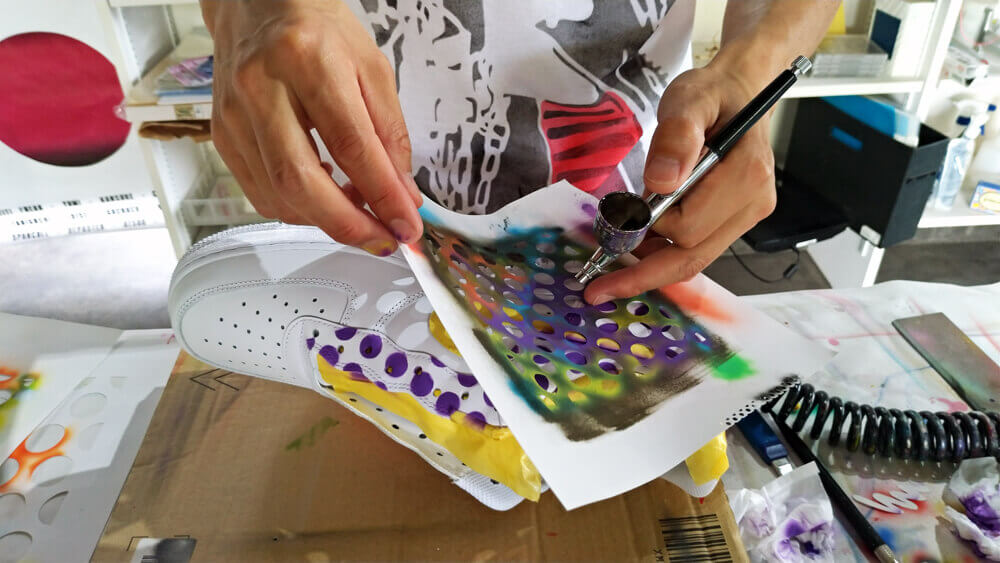 Akaike painting a sneaker using a stencil and an airbrush. ©Kansuke Akaike

In early May, the project "KANSKKICKS KUSTOMIZE (Kansuke's Kicks Customization)" was featured on the Youtube program "SNEAKER HOLICS", produced by GQ JAPAN, a monthly men's magazine. In this program, Shizuoka-based artist Kansuke Akaike paints sneakers by using stencils and an airbrush. Please read the article below to find out more information about how Kansuke uses Nike Air Force 1 sneakers as a canvas and customizes them as part of his work. 
Nike Air Force 1 as a Mode of Expression

The Nike Air Force 1 basketball shoe was first released 38 years ago in 1982. It was designed by Bruce Kilgore, a product designer who originally designed household appliances and cars. He was also in charge of designing the Air Jordan II and the Nike Sock Racer.
The Air Force 1 was an innovative basketball shoe in terms of not only sophisticated design but also functionality. Before the Air Force 1 came out, some basketball players wore three or four layers of socks to compensate for the lack of cushioning in their shoes. After the Air Force 1 was released, just one pair of socks was enough, even when playing on a hard, concrete court. 
In the mid-1980s, three Baltimore-area retailers including Charley Rudo Sports, Cinderella Shoes, and Donwntown Locker Room collaborated with Nike to carry out an unprecedented project. Entitled "The Color of the Month Club", the aim was to release a different color of the Air Force 1 every month. It was an unbelievable challenge to sell the same model of shoes with a different colour in those days.
From these two events, we can understand how innovative the Air Force 1 was as a basketball shoe at that time. The Air Force 1 is now available for artists to create custom designs because it has the platform to capitalize on the originality of artists and inspire them to create something from its blank canvas.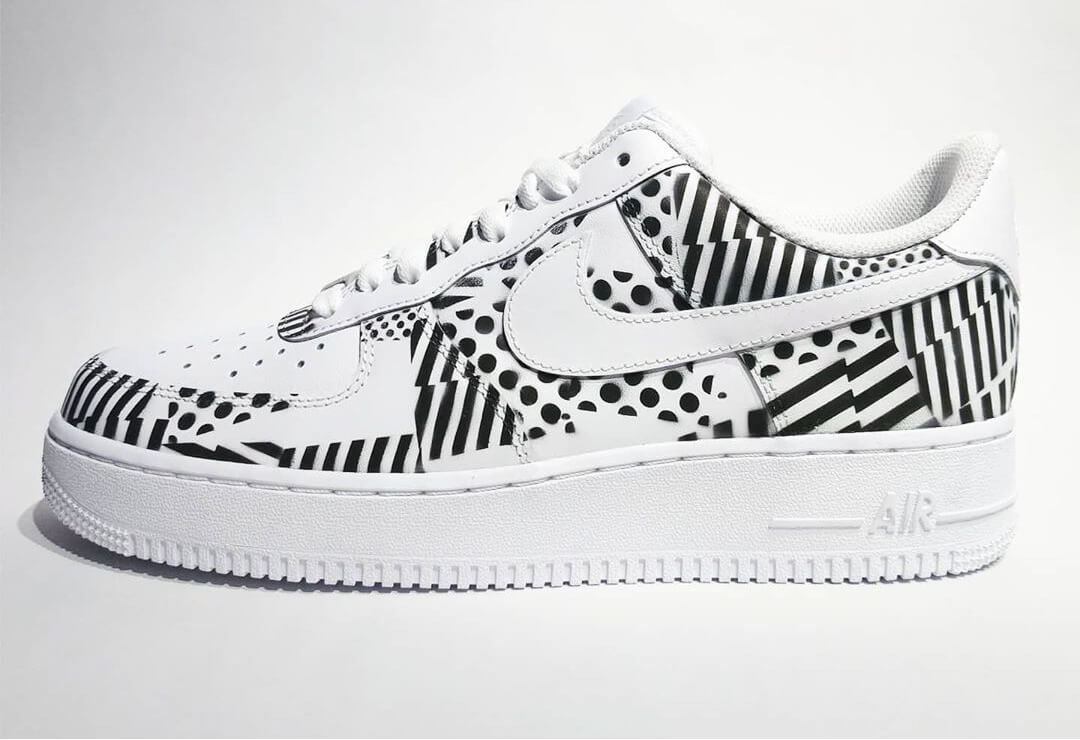 "KANSKICKS KUSTOMIZE, AF1, BW, Dot, Stripe", 2020,  ©Kansuke Akaike
Custom Sneakers to expand

Kansuke Akaike started customizing sneakers using stencils, an airbrush and a roller in 2000. It all began during a stenciling workshop when one of the participants brought in a pair of his Air Force 1s and asked Akaike to paint them. Sneakers, especially the Air Force 1, got his creative juices flowing and created an opportunity to expand his range of expression as well as broadening his horizons with a change of canvas.
It takes a lot of time and energy for Akaike to paint a pair of sneakers or a piece of art. The procedure for customizing sneakers begins with deciding a keyword chosen by a client, for example: cool or "kawaii" (the Japanese word for cute), and then brainstorming ideas based on the keyword. Afterwards, he visualizes the image in his mind using stencils and an airbrush. It's not just about keeping with the keyword. Akaike is also particularly aware of designing shoes beyond the client's imagination when painting sneakers. What he challenges himself to do is to present custom sneakers with a new esthetic.
Akaike now paints various other sneakers such as the Adidas Stan Smith, Vans slip-on, and New Balance M576. If you are interested in a pair of custom sneakers or further information, you can message him via Instagram @kanskkicks. In addition, we will be releasing original art by Akaike soon. Don't miss the opportunity to purchase his incredible artwork!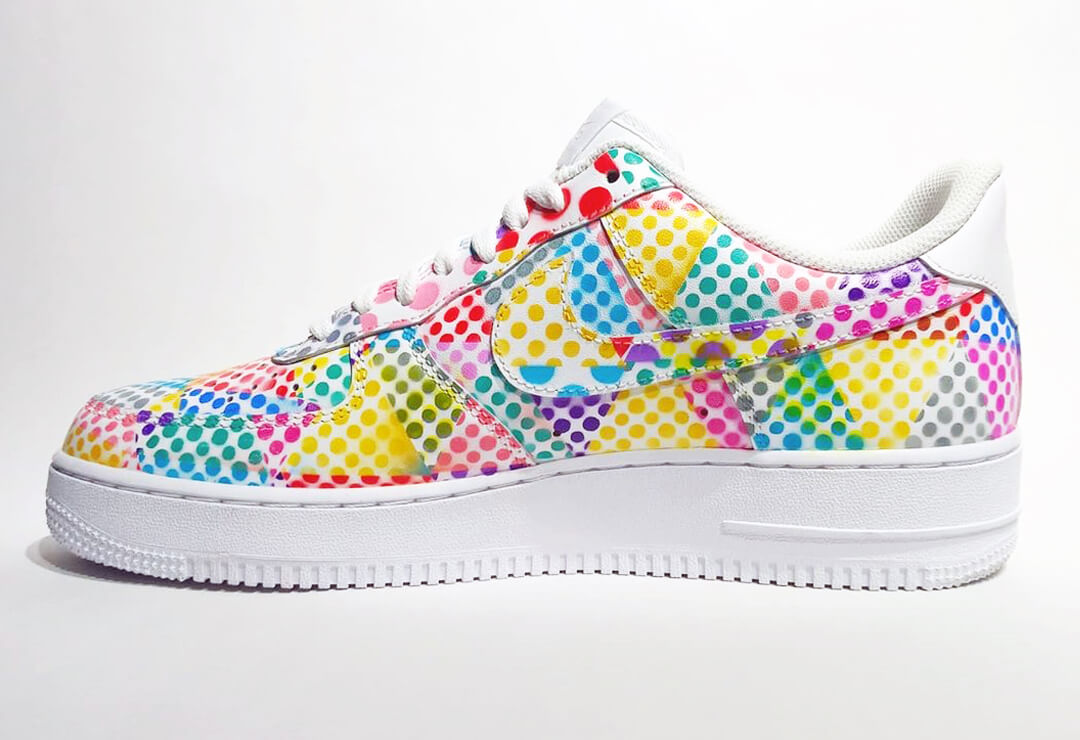 "KANSKKICKS KUSTOMIZE, AF 1, Colors, Dot, Triangle Full Customize", 2020,  ©Kansuke Akaike
Kansuke Akaike
Kansuke Akaike is an artist who was born in Kyoto, Japan in 1974. His stencil art, delicately depicting realistic expressions of his subjects has been showcased at solo and group exhibitions both within and outside of Japan. His first solo exhibition outside of Japan "Dogs and Drive" took place in Sao Paulo, Brazil in 2007. He changed his base from Tokyo to Shizuoka in 2015. Kansuke then opened his solo show "The Sea for Everyone" in Kanagawa. This show had a theme of highlighting the issue of marine debris in our oceans. In addition to these shows, Kansuke designed posters for Wheelchair Basketball World Challenge Cup 2018 and the Hi-STANDARD x Sky Perfect TV #playthegift Campaign. He started his project "Stay Home Art Project" in April, 2020 where he has been posting portraits of celebrities requested by his Instagram followers.
Kansuke Akaike Official Site
Kansuke Akaike Instagram
Reference:
Nacho Average Finds, Nike Air Force 1: The Legend Behind Nike's Perfect Shoe
Thibaut De Lougeville, Documentary AIR FORCE ONE
Nike, Inc., 『イラストで振り返るNIKE AIR FORCE 1の歴史』, NIKE NEWS
Nike, Inc., "A Visual History of the Nike Air Force 1", NIKE NEWS
Condé Nast Japan,『青山テルマとアントニーがあなたのための一足をカスタマイズ』, GQ JAPAN