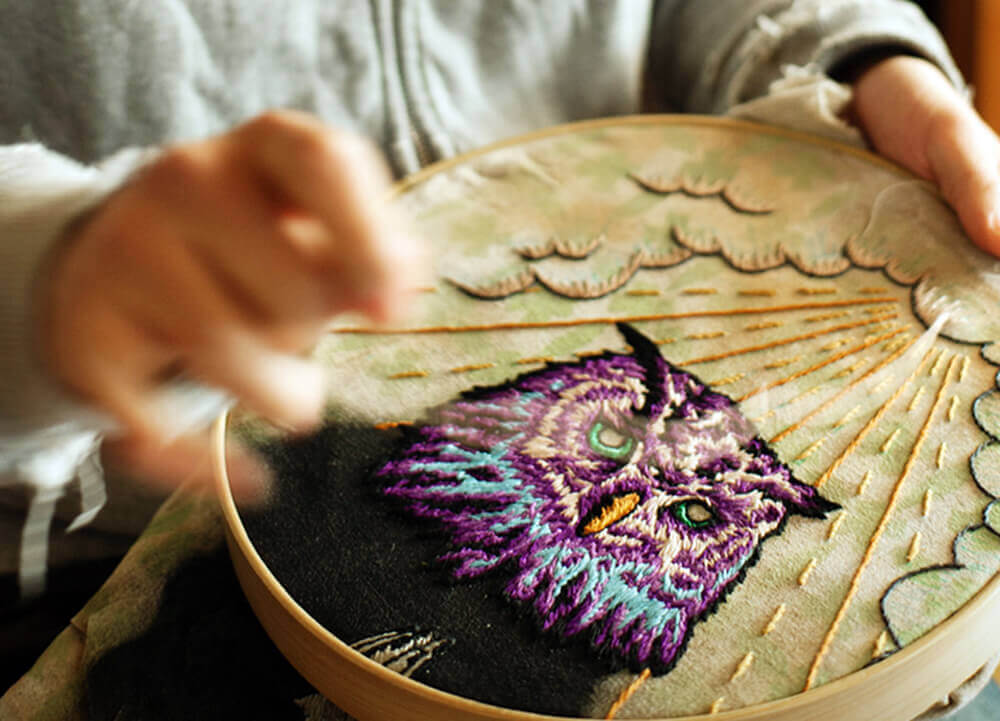 "In The Black", 2014, ©Koichiro Takagi

For all you art fans out there, Jet-Black Gallery will now be featuring regular interviews with our favorite artists. The forth artist we'd like to introduce you to is a man by the name of Koichiro Takagi.
Koichiro Takagi creates works of art based on the theme of "uncomfortableness". When we have an uncomfortable feeling, we begin to activate our thoughts to find the cause of it. Uncomfortable feelings trigger you to think.
Uncomfortableness, which Takagi's artworks include, would give viewers the opportunity to think deeply about something and lead them to discover new perspectives or values. If you enjoyed the interview, follow Koichiro Takagi on Instagram @koichirotakag. Stay safe and healthy.
— Please tell us a little bit about your background.

I was born in Tokyo in 1974. I had many opportunities to be exposed to art because my mother went to art university and some of my relatives were painters, so I have loved drawing since I was a kid. Since my family is Catholic, I went to a Catholic school up until elementary and was influenced by Catholicism. Afterwards, I started going to a junior high school which seemed to be left wing and took a more liberal approach to education. At the same time, I started listening to hardcore music and skateboarding. I was very inspired by those subcultures.
Studying printmaking at university in Japan as a start, I later went to art school in San Francisco where I majored in printmaking and created works of art using screen printing, etching and lithograph. After graduation, I moved to New York to create art using printmaking techniques. I took a screening test to see if i was qualified enough to be able to use a studio which would allow me to use printmaking equipment for free. It was fun for me to use a studio where there were many kinds of unique people. But the studio was not always available when I wanted to use it, and it was kind of hard to use the ragged equipment effectively so I thought it would be better to create art at home, and I started painting.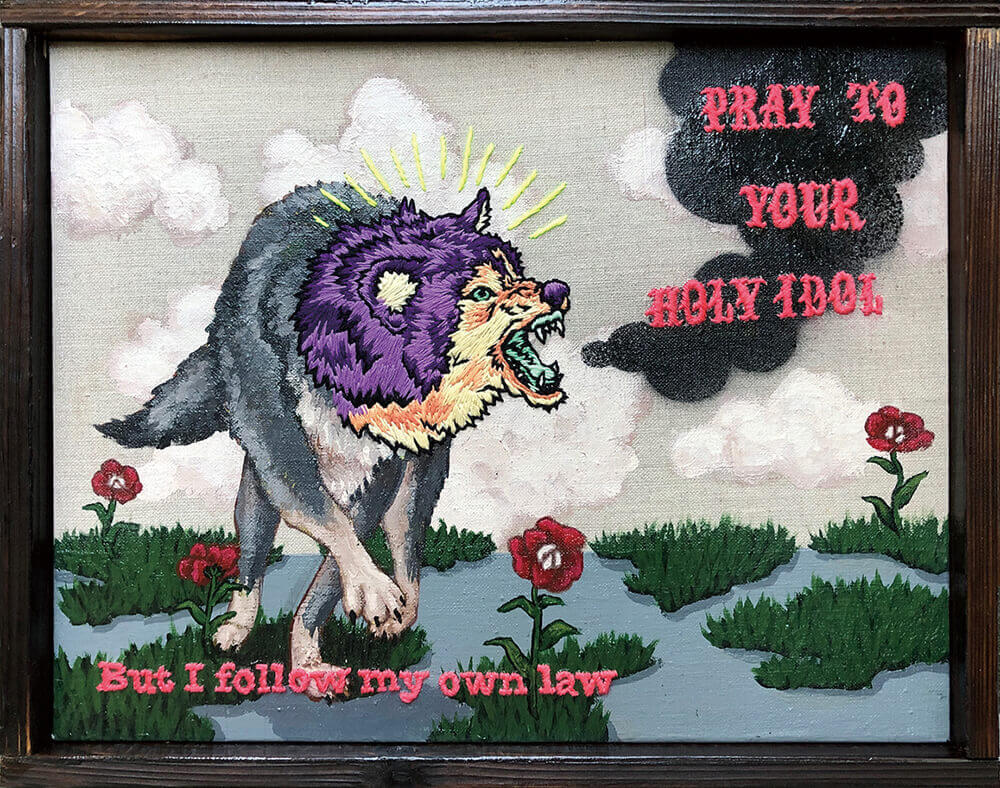 "I follow my own law", 2019, ©Koichiro Takagi

The period when I was doing paintings, I often saw posters by FAILE on the streets in New York. Since their posters were really cool, I contacted them to invite them to my exhibition. They stopped by to see my show and we got to know each other. They taught me how to make stencils and then I started stenciling. Printmaking and stenciling have similar aspects and stenciling was something that resonated with me. I really enjoyed creating stencil art. I started out making paintings and then I learned to stencil. I wound up making stencils based on my old paintings, but now I just create the stencils from scratch.
I came back to Japan after learning how to stencil in New York and I created paintings and stencil art for a while in Tokyo. In 2009, I got the opportunity to showcase a new collection of my art that I had embroidered onto cloth using stencils as a rough sketch. I got positive feedback about these new art pieces from viewers. I thought that I should keep going with creating this style and make more embroidery pieces. Now I create mixed media art by blending techniques like stenciling, painting, and embroidery.
— Did you have a specific opportunity to become an artist?

I had never dreamed of becoming an artist, but I didn't get around to finding a job and just continued drawing. When I came back to Japan, I didn't have any work history so my only the option was to become an artist.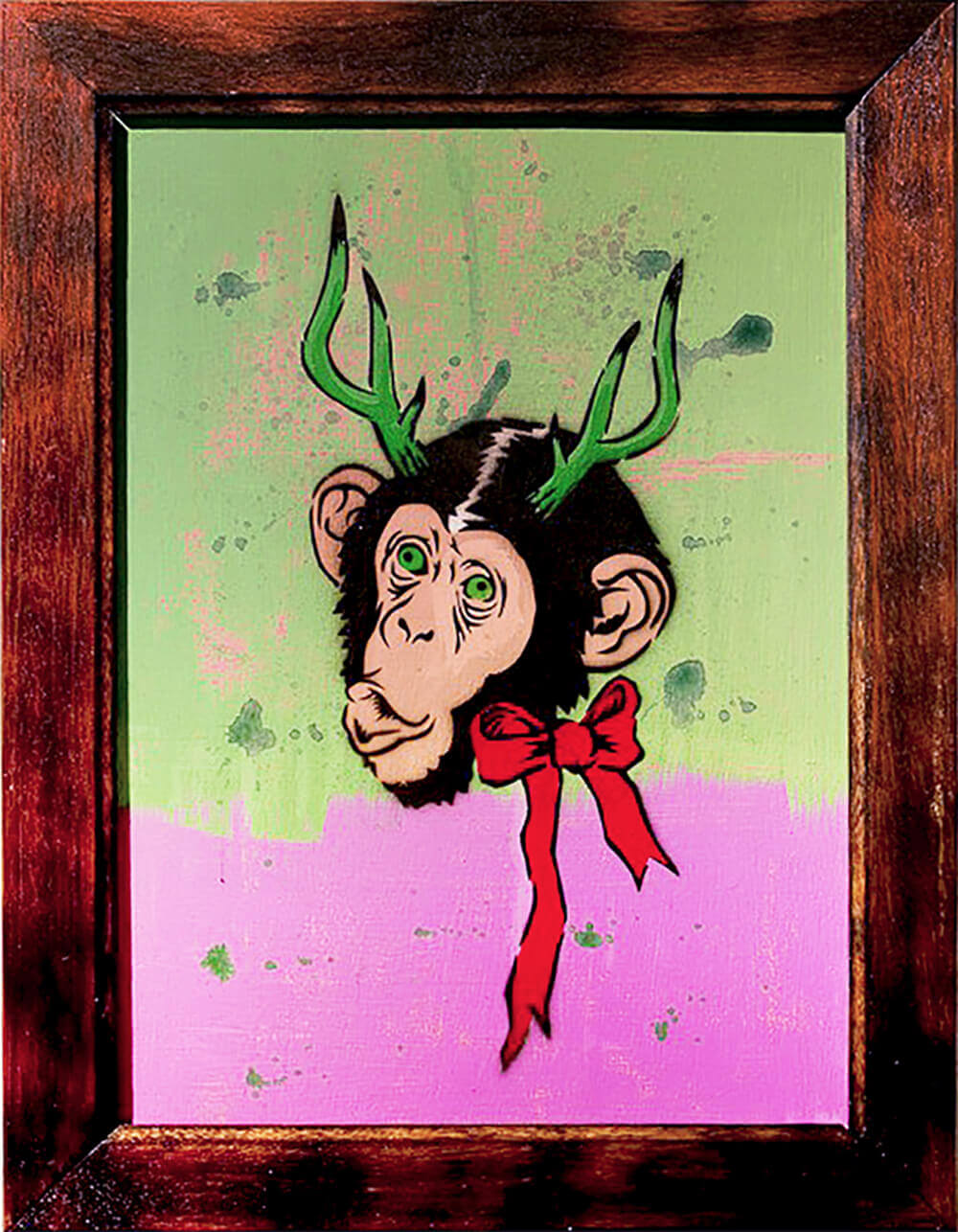 "Wide Awake", 2009, ©Koichiro Takagi
— You started stenciling after being inspired by Brooklyn based artist group FAILE. What did you learn from them exactly?
FAILE's posters were up all around the city when I lived in New York, around the year 2000. Their posters were really cool, so I contacted them, and they came to see my exhibition. FAILE had three members in those days and one of the members, AIKO*, was also Japanese.
When she poster-bombed on the streets alone, I tagged along her as a lookout. I ended up getting along with everyone really well. They eventually told me that I should bring my stencils along with me since I'm there doing the lookout anyways. When I first started stenciling, I wasn't very good at it. FAILE invited me to their studio and showed me how to make stencils properly. They taught me how to do it.
I learned not only techniques for art, but also how to turn art into a business, and how to promote myself as an artist at an art school in the States. American artists know how to collaborate to turn their creations into money to make a living off their art. FAILE's artworks were already popular and they sold some of their designs to clients at that time, so I admired FAILE a lot.
*AIKO left FAILE and she is now a solo artist known as LADY AIKO.

—  You mainly create your works of art with embroidery. How did you choose this as your medium?
When I coincidentally received a piece of hand embroidery one day and inspected it, I thought that I'd be able to make something interesting using embroidery using stencils as a rough sketch. So I gave it a try and it was really fun. I had a pretty good feeling about my finished artwork.
I explored my own way of creating embroidery art through trial and error because I wanted to go with my instincts, just like my favorite hardcore music feels very instinctual to me. I didn't learn the basics from reading books about it. It was hard to break through my own way of creating, but when I showed my friends prototypes, their reactions were good, so I kept creating embroidery art. It took two years to exhibit my embroidery collection since I first started embroidery art in 2017. Surprisingly, I've become much faster at embroidering compared to that time.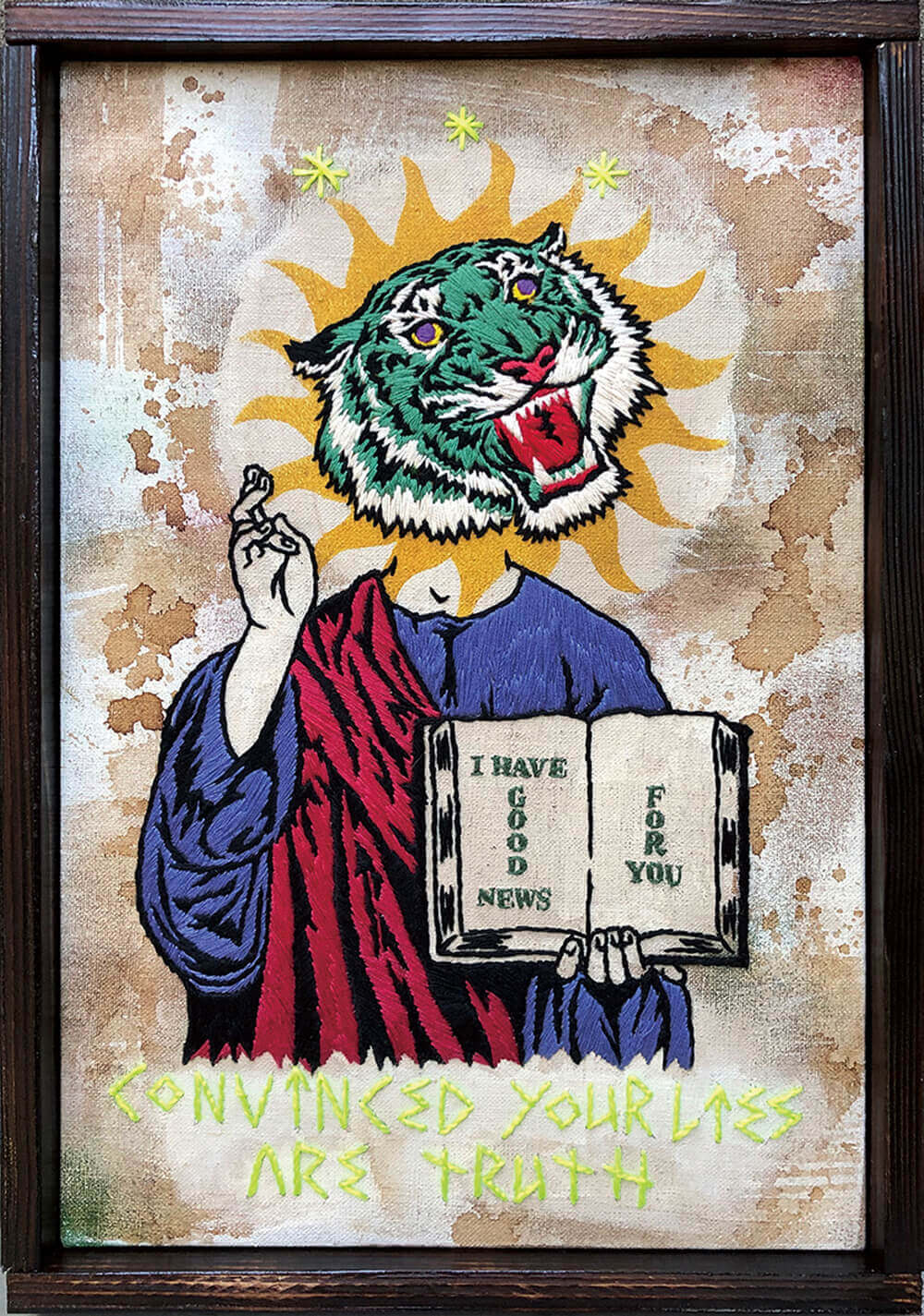 "Convinced your lies are truth", 2019, ©Koichiro Takagi
— There might be a difference between thread and paint when deciding on colours for your art. What are you thinking about when deciding on colours for your creations?
Basically, I decide on colours when I am creating an image on Illustrator but I eventually just trust my instincts and sometimes change colours when I am embroidering. In my case, as I paint something with the final vision in my mind, there is no big difference between painting and embroidery in terms of colours. I have a similar feeling about brush strokes and thread strokes and it feels like I am drawing a picture with the thread.

— Animals are an important theme in your art. Do you have a special reason for drawing animals as a theme?
I liked animals as a kid and drew a lot of them from the very start. When I draw a person, I get asked who the person is. He or she is not a specific person, the person is just a character in the story of my painting. I thought that drawing animals, because they are more like symbols or signs, would make it easier to understand the meaning of my art. And it would help viewers to find the story of my pieces. Besides, if I keep drawing animals, it will become something that can distinguish me from others.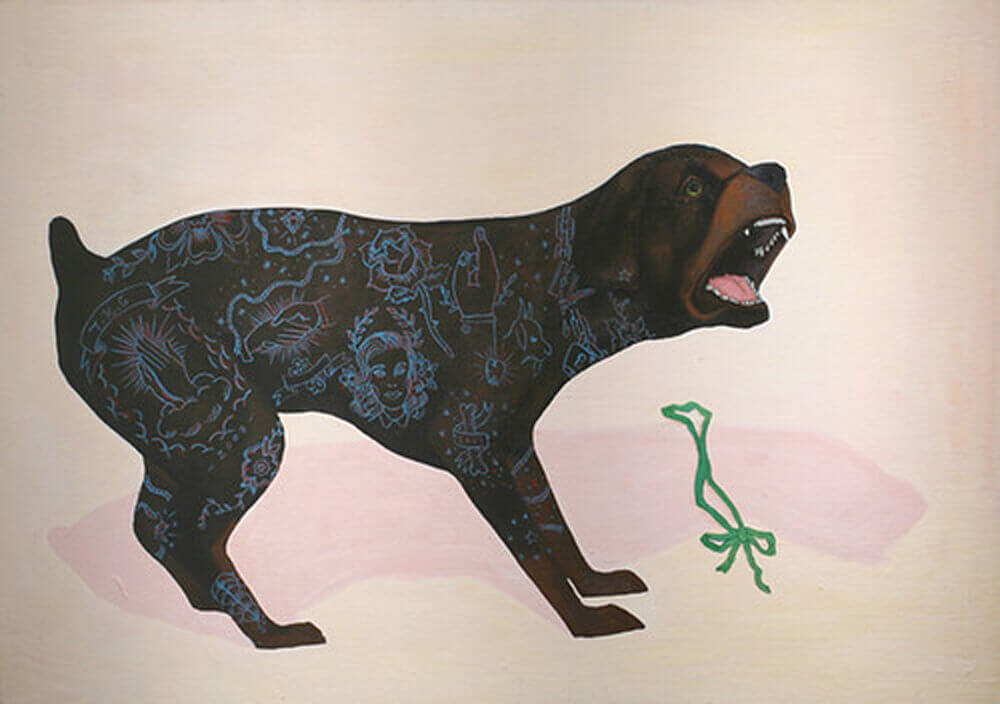 "Interceptor", 2007,  ©Koichiro Takagi

— Your works of art often include English expressions. Please tell us your favorite expression in English.
This is not your devil (covered)
"These are not devils. These are my gods. Is the devil really what you think he is? The gods will free you from the restraints of the ancient gods. However, I am not talking about beliefs or religion. I'm talking about questioning authority, theories, customs and advice which you have been blindly following." What I express, briefly, is that we should have our own thoughts and embrace others and respect each other.

— Could you tell us if you have any exciting plans with your art coming up in the near future?
I'm planning on holding an art exhibition with Japanese artist HIROTTON at HENRY HAUZ in July, though my schedule has been changing due to COVID-19. As HIROTTON is also an artist who often draws animals, we will be showcasing many collaborative pieces for the show.

Koichiro Takagi
Koichiro Takagi is a Japanese artist, making artworks on the theme, "uncomfortableness". He creates the bright colored mystic world by distorting and patchworking of the present and the past, the reality and the fantasy. Koichiro Takagi learned silk-screen printing in San Francisco then he moved to New York after graduation from school, and started his career as a painter. Enjoying quite different atmosphere from both the east and west coast of the U.S.A., he has been produced a lot of artworks. In mid 2005 he jumped back to his hometown, Tokyo. He joins many group exhibitions as well as holds some solo exhibitions. He is proficient in graphical design such as Illustration and stenciled spraypainting. Koichiro's designs have been applied to Paul Smith, Beams and others. (Cited from Koichiro Takagi official site)