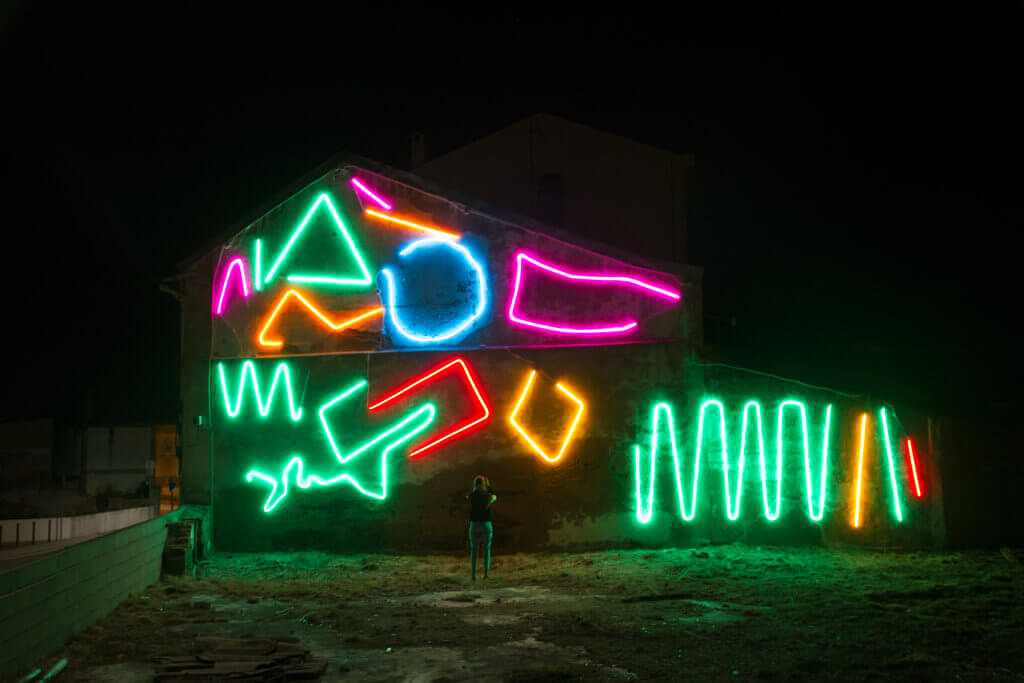 "Interactive Neon Mural #1",  2018, ©Spidertag

For all you art fans out there, Jet-Black Gallery will now be featuring regular interviews with our favorite artists. The third artist we'd like to introduce you to is a man by the name of Spidertag.
We recently interviewed the Madrid-based street artist Spidertag about his art. He has been dropping his mural series called "Interactive Neon Mural" using flexible neon cables on streets around the world in places including Portugal, the United States, Canada, Finland and Thailand.
After dark, his nocturnal pieces unveil stunning figures with vivid colourful lights, and illuminate streets and people. Viewers can get together in front of his distinctive neon light murals, and start playing with the colors using an app on their smart phones. The murals keep the viewers interested by changing colours, tones, and the way that they glow. Spidertag elevated the relationship between street art and its viewers with his "Interactive Neon Mural" series. If you enjoy the interview, follow Spidertag on Instagram @spidertag. Stay safe and healthy.
— Please tell us little bit your background.
I painted my first mural when I was around 10 years old. It was a 2 x 2m wall at my grandparents' house. I was studying drawing in an after-school program. Then I played basketball in lower divisions and then I studied many things, including cinema and sculpture. In some cases I was kicked out due to bad behavior.
Then I discovered street art and graffiti and for me this was the way to find freedom of creativity. I'm a restless person with a lot of interests in many different aspects of culture and art, video-games, science fiction, history, literature, cinema, architecture…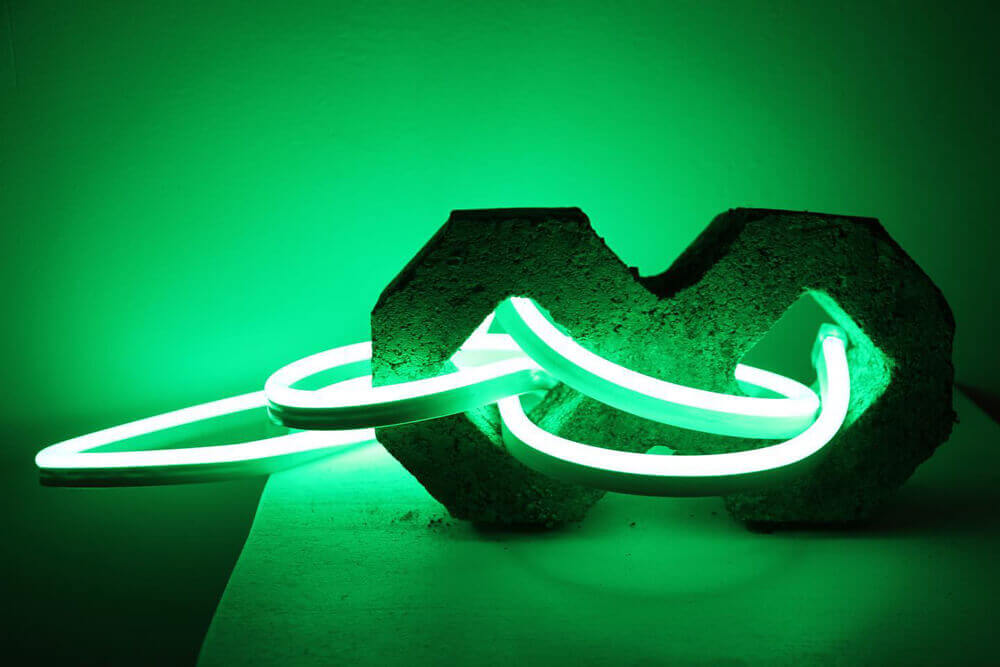 The exhibition "Reflexions of the Neon Dream", 2020 @minimao.np


— Did you have a specific opportunity to become an artist?
Not exactly. It was something that just happened. The only thing I always had in mind was to be an artist as a way of being. Not a part time artist. Art is life, a passion, not only a profession.

— Your most recognizable artworks are your "Interactive Neon Mural" series. How did you come up with the exciting idea to allow people to interact with your murals?
I was experimenting with lights and phosphorescent paint for a long time. And I was looking for materials that could allow me to do huge murals. So, when I found it, it was a eureka moment for me. Same as when I discovered that I could also play with the mural. I felt that I made a great step in terms of street art and the muralism movement.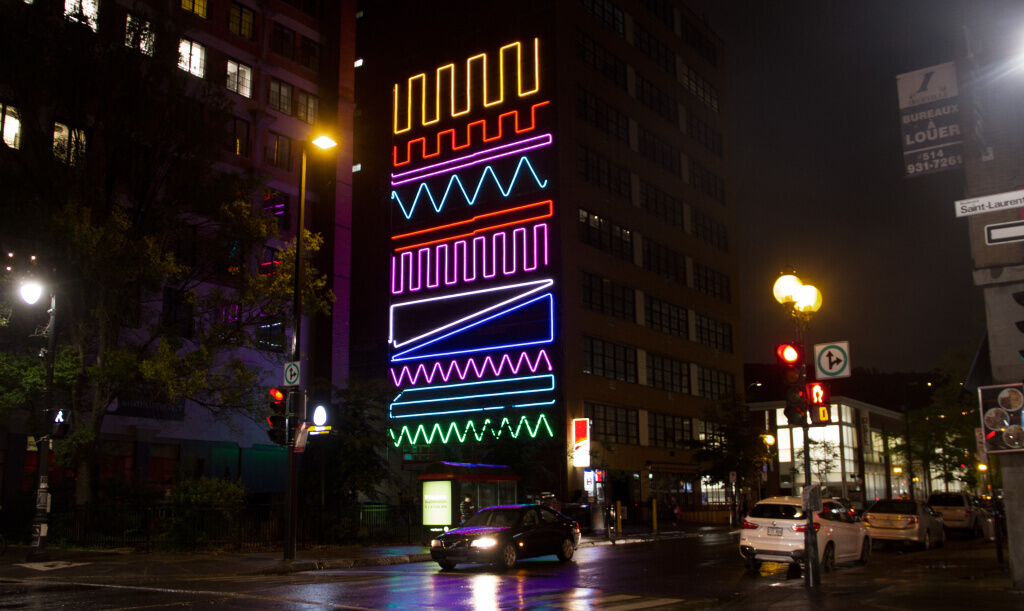 "Interactive Neon Mural #4", 2019, ©Spidertag
— You travel all around the world to create your murals. Which country or city has been the most memorable one for you so far?
I love to travel the world to create my murals. And I usually find in every country a significant story to remember. Montreal, for example, was a very interesting city and project to remember so far. I loved the alternative vibes of the city. Also I was in a hotel with a basketball court in the basement, the challenge of the wall, the people I met…

— The colours in the "Interactive Neon Mural" series are very striking. What are you thinking about when deciding on colours for your creations?
I had a period in which I was working with one color, and another with no more than three. Then I decided to use as many as possible. I like the combination of being able to mix colors added to the possibility of changing them using the app to control part of the mural. I'm always experimenting with the effect of the colors in different environments….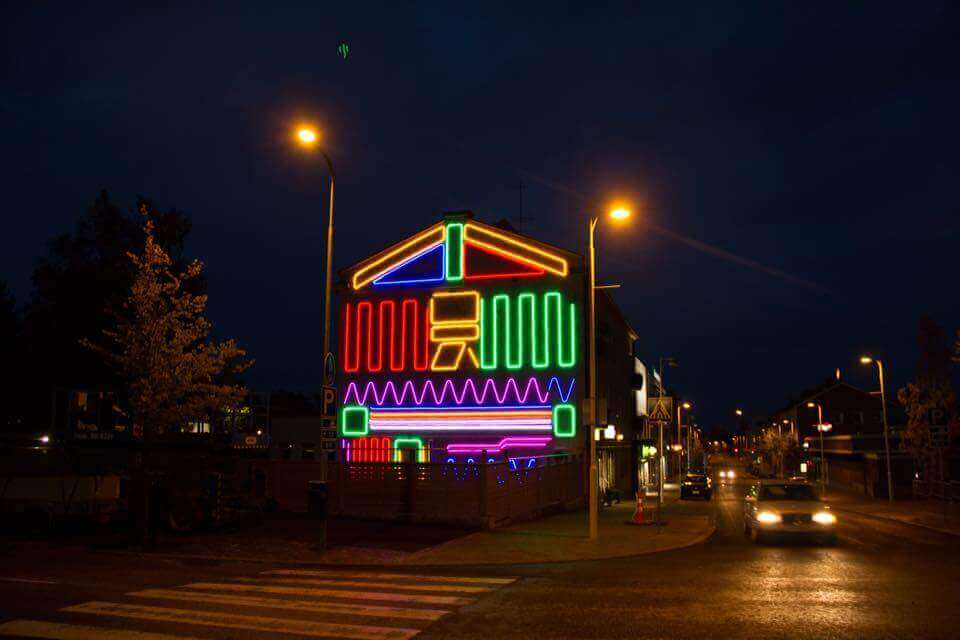 "Interactive Neon Mural #6", 2019, ©Spidertag

— You mainly create your works of art using flexible neon cables. How did you come about using this as your medium?
I love old neon lights and studied their use in art during the mid-20th Century. Around 2015 I was looking for new materials to express something like a new and futuristic experience for street art and muralism, something low tech, something used for a normal purpose like a simple lamp for a house. So, I found new materials, like Neon 2.0 that I think take these old neons to a new era, and I'm writing this new era, NeonMetry.

Also thanks to my travels around the world, this idea of combining futuristic neons with simple old style language in terms of shapes and forms, I think its a great duo, combo…I like the contrast of symbols as a primitive language with non-figurative expressions and futurist technology to create Big murals to play with.

— I'd like to ask you some questions relating to Japan. What was your first impression of Japan?
I went only once for a vacation and loved Tokyo. I felt amazing emotions about the contrast between the traditional gardens and the futuristic style of the city. I really hope that I can return soon to create an interactive neon mural.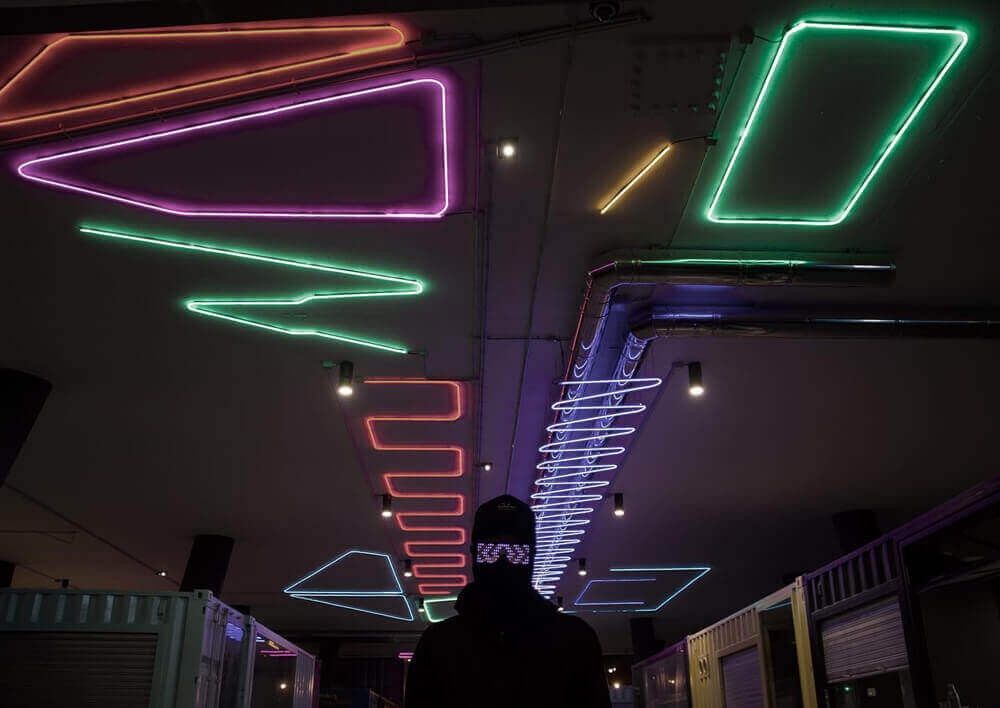 "Interactive Neon Ceiling", 2019, @marina.g.vas

— Do you have any specific Japanese influences that you can relate to on an artistic level such as other artists, musicians, authors, etc.?
Yes, classical videogames, for example. I watched lots of Japanese's cinema from Akira Kurosawa, Yasujiro Ozu, Hayao Miyazaki or Takeshi Kitano. From Akira to Evangelion, Robotech, Shingeki no Kyojin.
— Could you tell us if you have any exciting plans with your art coming up in the near future?
I'm writing this interview after 65 days confined in a house due to the Covid-19 pandemic. So, all the great expectations for this year full of amazing projects changed radically to 0. I don't know how this problem is gonna continue or be solved. I hope that I can re-illuminate the world after this dark time, I don't want to live in a modern -5G- version of the Middle Ages.
Spidertag
Spidertag is a street artist who has worked since 2008 reinterpreting geometry, abstraction and minimalism, and recently symbolism, in streets and rural spaces globally. At the end of 2015, he discovered the material that has taken him to a more personal and unique level: flexible neons. Here begins an adventure of research and development that still continues. His influences range from Russian Constructivism, to science fiction, Kinetic art, all the way through electronic and alternative music and literature, cinema, videogames, graffiti and current muralism or modern architecture.
https://spidertag.wordpress.com/
https://www.instagram.com/spidertag/