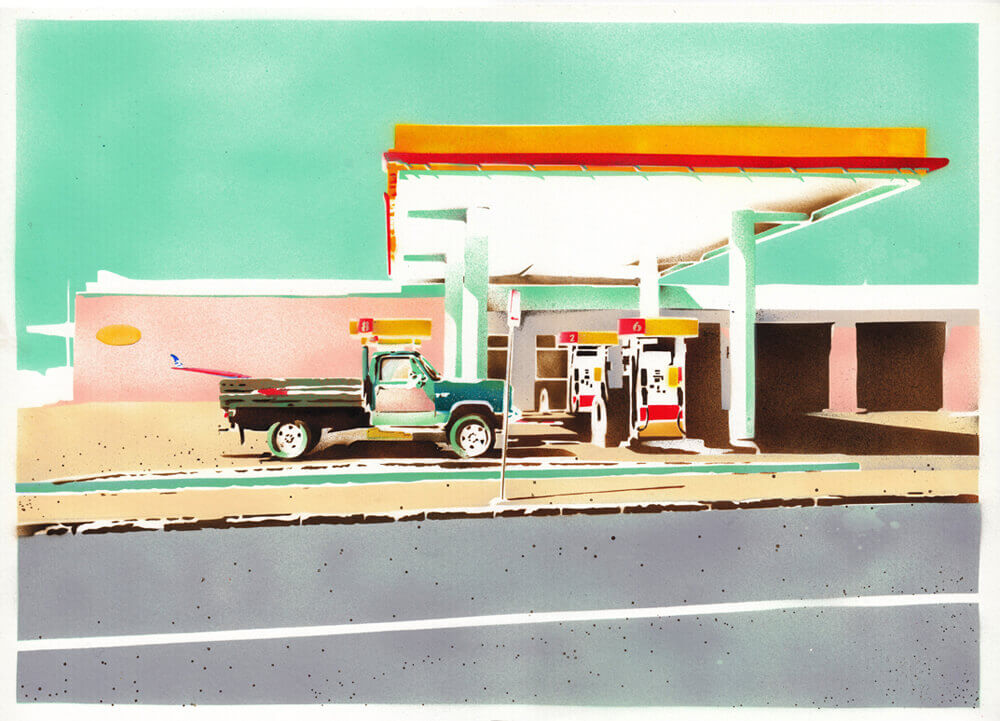 "SURF TRUCKER", 2018,  ©Kansuke Akaike

For all you art fans out there, Jet-Black Gallery will now be featuring regular interviews with our favorite artists. The second artist we'd like to introduce you to is a man by the name of Kansuke Akaike.
Kansuke uses his skills to realistically depict common scenery, people, and objects using stencils and an airbrush. His stencil art evokes such complex sensations that even the temperature, sounds, or even a particular smell can almost be felt. If you enjoy the interview, follow Kansuke Akaike on Instagram @kansukeminamiizu. Stay safe and healthy.
— Please tell us little bit about your background.

My name is Kansuke Akaike. I am an artist who creates art using stencils as my means of communication.
— What inspired you to become an artist?

I loved to paint and express myself in childhood. I have also been very into Japanese rock bands and foreign punk rock bands since I was a middle school student. I was amazed how indie and punk rock bands expressed their power to assert themselves and resist against conforming to society. I was interested in not only their songs but also their graphic design and fashion esthetic. It made me want to go to art university to pursue a career in design.
After graduating from high school, it took me three years to feel confident enough to pass my entrance exams for art university. I began by studying the basic knowledge and techniques for art including drawing and color theory during that time. I had the opportunity to be exposed to many artworks from different periods. Especially, I was inspired by 80's contemporary art and 90's street art. I had a teacher at the time who, concurrently, started getting a lot of attention from people in the art and design fields. I was fortunate enough to be able to witness this process of him becoming famous as an artist at this time. I was also becoming aware of my own desire to be recognized as an artist by seeing how my mentor had developed.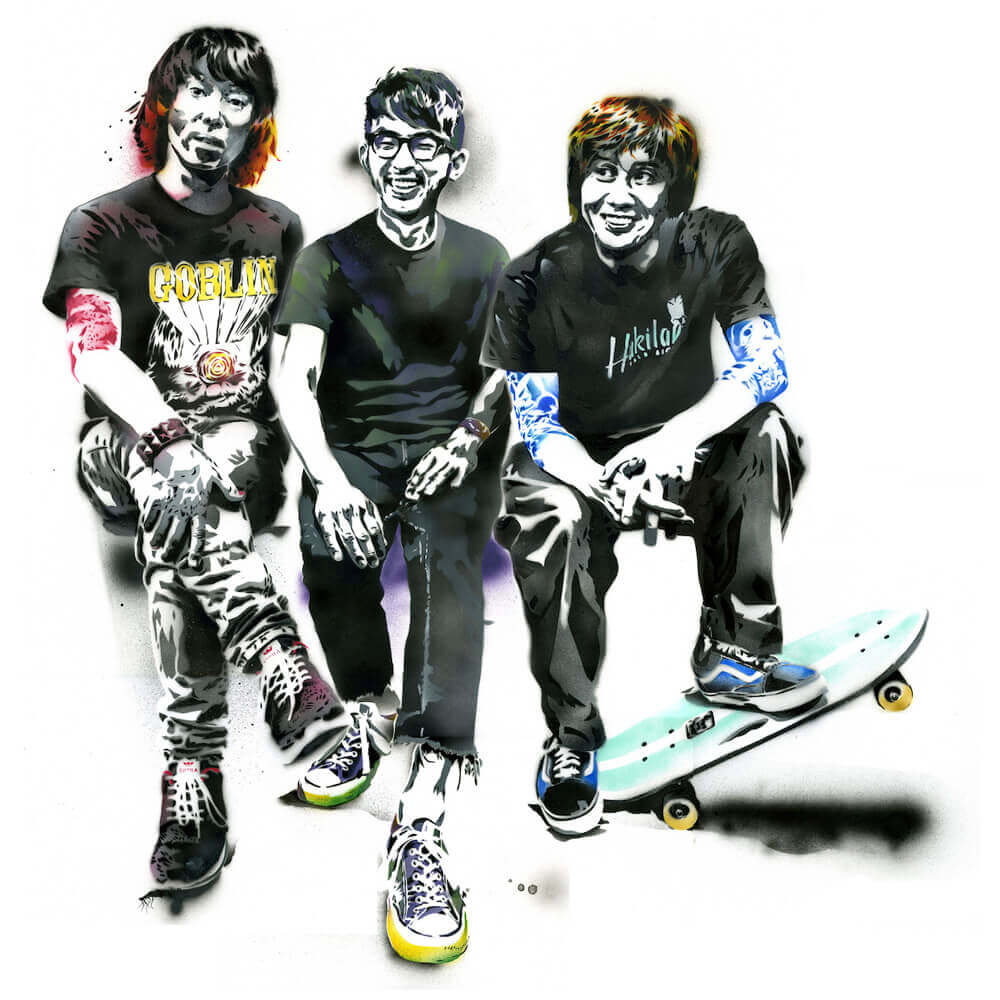 Artwork for Hi-STANDARD x Sky Perfect TV #play the gift campaign, 2017, ©Kansuke Akaike

— You mainly create your works of art with stencils. How did you choose this as your medium?
I originally created silkscreen and collage artworks because I was interested in print medium. After graduating from university, the equipment for silkscreen printing was not available anymore, so I started making screen printing plates myself by cutting paper with a paper knife. When I created collage works, I was spray-painting onto my collage using the screen printing plates as the stencils. As a result, my way of expression shifted to stenciling, as stenciling is simpler than using silkscreen templates as a medium. Street artists such as OBEY, WK, Barry McGee, and OSGEMEOS were a really hot topic at that time and I felt like their swift and realistic expressions were my taste.
One of the attractions of stenciling is that there is an instantaneous effect. Right after spray-painting onto paper you have your image, which quickly generates an effect—a sense of nostalgia and reality beyond description. Another attraction is that stenciling is repeatable and copiable. I think that these attractions are linked to current tendencies in our society such as the speed of social change and unstoppable mass production like being produced, consumed, and quickly forgotten.
So, I think that retaining a snapshot of the scene, or preserving a moment of the present is a form of expression that is relevant in the current era. These days, I often realize that stencil is the form of expression that reflects our times. I don't try to mimic the style of street art including social messages like Banksy does. My style is simpler than it. It's almost like I'm distilling and capturing the taste of the times.
When I was a junior high or high school student, I wanted to express myself rebelliously in the form of music. My way of expressing myself to society changed from music to art, but my basic beliefs are still the same. My medium just became a stencil instead of an instrument or a microphone. Also, drawing or painting was just a way of learning something and stenciling was the way of using what I learned. They have already become my routine to create artwork.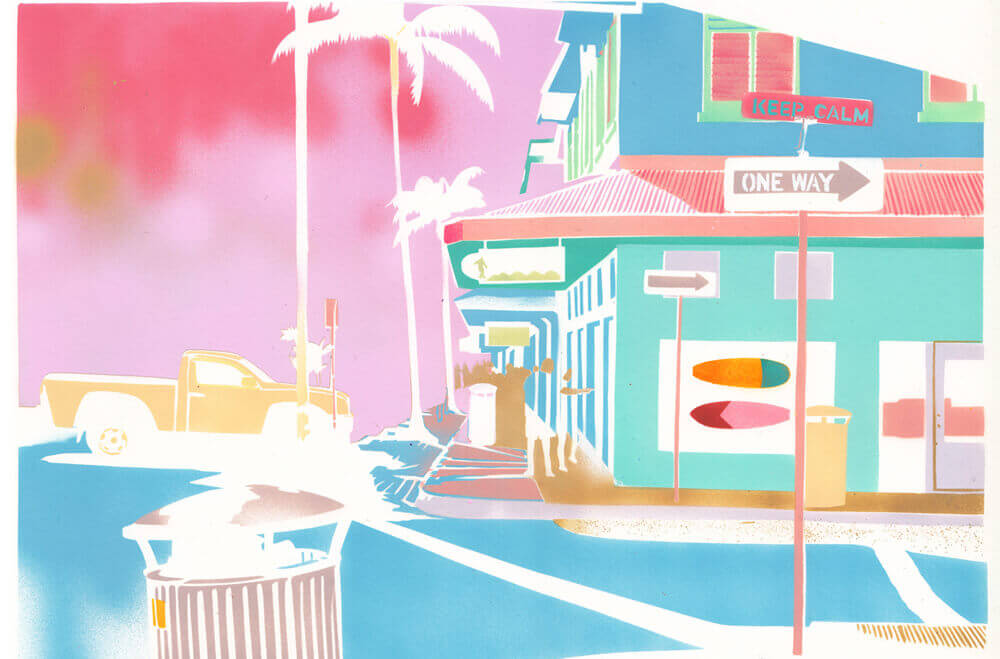 "KEEP CALM, ONE WAY", 2018,  ©Kansuke Akaike

— What is the origin of your expression exactly?
The musicality of Japanese rock bands and foreign punk bands is still somehow connected to the esthetics and principles of my creations. There is value in breaking out of the existing ways and going your own way. Besides, they always manage to provoke others with their rebellious attitude, making one question if they want to be in on it too. This kind of attitude originally motivated me to express something. So I see it as my origin.
— Your colour schemes for art are very unique and impressive. What are you thinking about when deciding on colours for your creations?
I grew up in the 80s and 90s. As my generation was strongly inspired by pop culture, it was common for us to use as many colors as possible. The gaudy era in many ways made me confused about what beauty was, so I had an inferiority complex about colours. I was really poor at doing colour assignment before going to university. I didn't know about complementary color schemes at all. That's why I studied and learned about colors by trial and error.
Pro-wrestling sparked my interest in taste for the colours of Latin America including Brazil and Mexico. Especially, I like the colors of walls and buildings there. I sometimes use colours inspired by nature. Since I live in a rural area surrounded by nature, I often find and feel the beauty of colours from nature. In those cases, I decide colour schemes by following my intuition. 
The important thing about my color choices is that my style of stenciling was originally formed based on my own photography. Because I had a knack for photography, I decided to start making stencils based on my photographs. I was afraid that this could limit my expressiveness because most other artists base their stencils on drawings. So I tried to use a specific color scheme so that when people saw my art at first glance, they would immediately recognize it.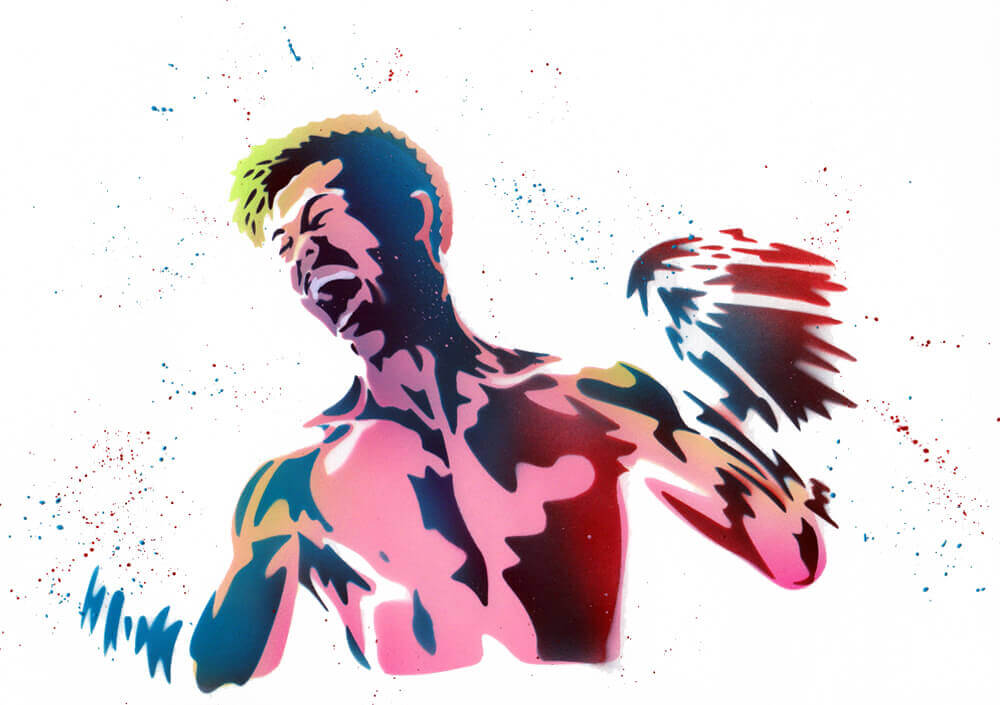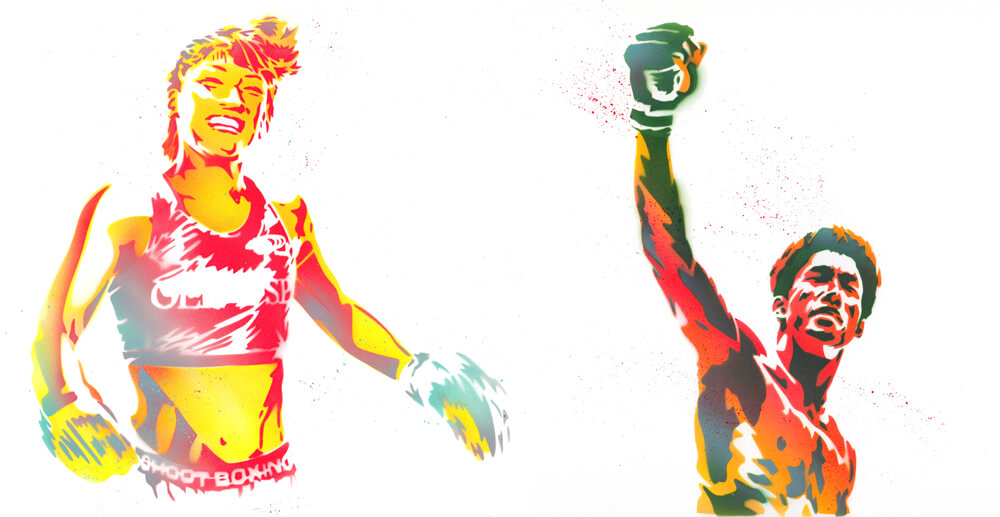 RIZIN 20 OP MOVIE ART WORK, 2019, ©Kansuke Akaike

— Your artworks were used in a film which was played at the opening of a Japanese MMA Kickboxing event called RIZIN 20. Please tell us your what you were thinking about when you depicted MMA fighters.
A video director for RIZIN came to one of my exhibitions and then we started talking on Instagram about collaborating. I have loved pro-wrestling and MMA for a long time and I know that the MMA event that took place on New Year's eve used to be huge in Japan. Besides, RIZIN 20 was planned to be broadcast on TV nationwide, so I thought that this offer to paint MMA fighters would be a great opportunity for others to get to know my artwork. It made me very excited and it increased my motivation to create, the same way it had when I painted for Hi-STANDARD, who are a legendary Japanese punk rock band I worked with in the past. The big match between Floyd Mayweather and Tenshin Nasukawa was held exactly one year before RIZIN 20. Some Japanese MMA fighters such as Kyoji Horiguchi, Mikuru Asakura, and Kai Asakura were becoming more recognized and starting to become household names. Since notable and talented MMA fighters were on the bill, I simply couldn't wait for it.
Just tracing the silhouette of a fighter was meaningless, so I asked myself "How should a fighter be expressed from an artist's perspective?" I watched the past matches and interviews with the fighters to find some answers. I imagined the personality of each fighter and created a story behind each match. I challenged myself to paint the fighters while conveying something special that they had. In other words, I was eager to enable my works of art to become a trigger for excitement among the fans.
The first fighter I worked on was a Japanese female fighter named RENA. Female fighters have a different kind of charm, like brighter and happier than male fighters. I mean they are not only strong but also feminine and attractive. I was mindful of expressing these traits properly when I painted RENA. When I wrapped up painting RENA, I was certain that I would be able to paint all of fighters.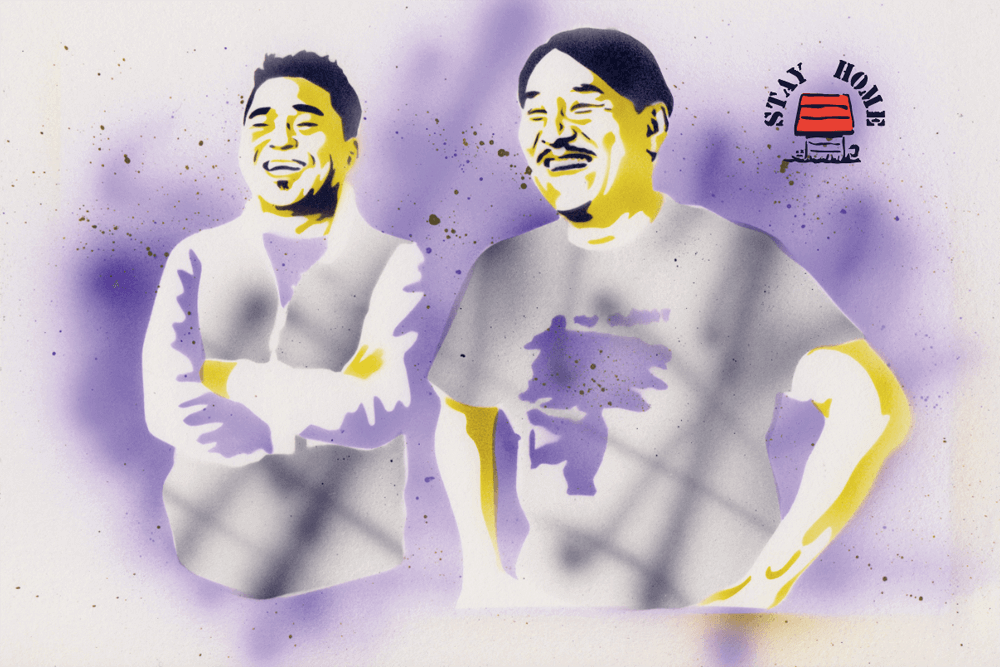 #STAY HOME ART PROJECT, 2020, ©Kansuke Akaike

— You started a new project called "Stay Home Art Project" and have been posting portraits of celebrities on Instagram. Can you tell us more about that?
When the government was determining whether or not to declare a state of emergency due to COVID-19, it felt somehow wrong to be creating art. It was a similar feeling to when the Great East Japan Earthquake occurred in Japan. I was unsure if creating art would be meaningful at that time. The people around me were refraining from going out and starting to work at home. They also started having some fun connecting with others on social media. I felt like joining in on the fun and began to think about how I could help others think positively with my art via social media. This is how it all began.
I thought that if we could make a certain connection on social media, it could give people a bit of relief, even during this time of uncertainty. That's why I decided to start Stay Home Art Project. I first asked my followers the question, "who would you like me to draw?" on my Instagram stories. I'm still trying to paint all of the requests I received in that 24 hour period. I wanted to know the reality of people's lives today and express what I felt and thought while interacting with them through my art. Perhaps art, listening to music or watching movies might help people who are staying at home. It would be a short respite for them but I wanted to imprint the moment with my art.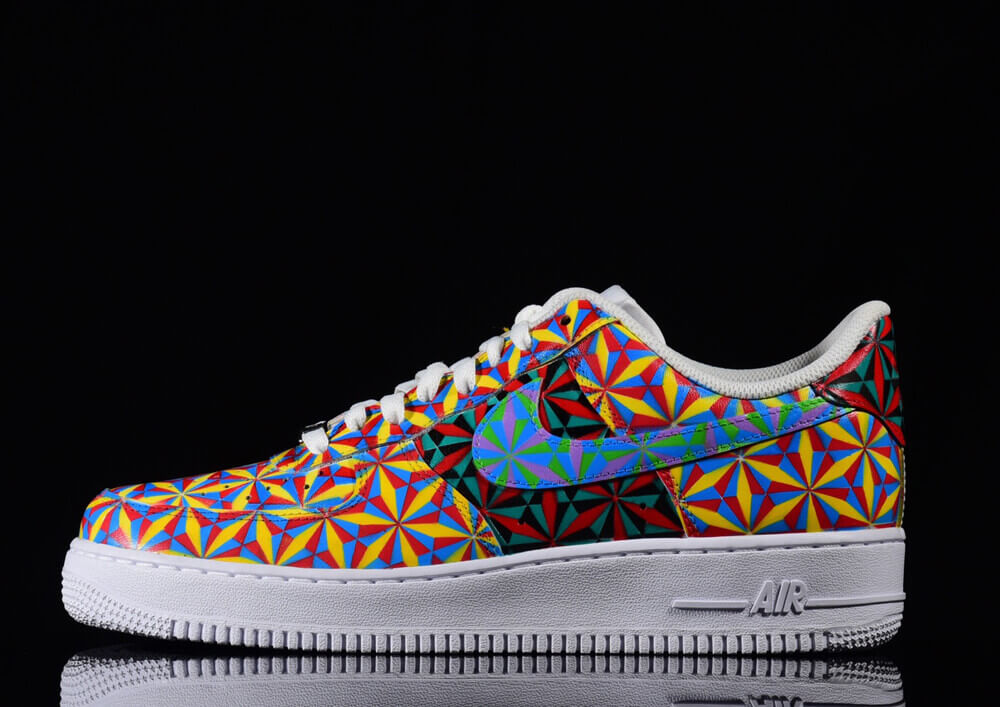 KANSKKICKS x DISK_GLASS SPECIAL COLABO Air Force 1, 2019,  ©Kansuke Akaike

— Could you tell us if you have any exciting plans with your art coming up in the near future?
The Youtube program "SNEAKER HOLICS" produced by GQ JAPAN, is a monthly men's magazine that has featured my project "KANSKKICKS KUSTOMIZE" where I paint sneakers by using stencils and an airbrush. It would be a great opportunity for many people to learn about my artwork. I'm hoping that this program will lead to new jobs or activities.
I also have a lot of ideas for a project focusing on the issue of marine debris. For example, taking this project as a start, I want to collaborate with companies or other artists who also have an interest in this issue and do something special to find a solution. I'd also like to paint more commission works for individuals, as I did with my Stay Home Art Project. I will be keeping myself busy and trying to promote myself actively.
I might have the opportunity to showcase a whole range of my old and new art at a gallery in Shizuoka in 2021, so I will prepare for that little by little. I'd like to make many opportunities for everyone to be able to see my art in many different ways.
Kansuke Akaike
Kansuke Akaike is an artist who was born in Kyoto, Japan in 1974. His stencil art, delicately depicting realistic expressions of his subjects has been showcased at solo and group exhibitions both within and outside of Japan. His first solo exhibition outside of Japan "Dogs and Drive" took place in Sao Paulo, Brazil in 2007. He changed his base from Tokyo to Shizuoka in 2015. Kansuke then opened his solo show "The Sea for Everyone" in Kanagawa. This show had a theme of highlighting the issue of marine debris in our oceans. In addition to these shows, Kansuke designed posters for Wheelchair Basketball World Challenge Cup 2018 and the Hi-STANDARD x Sky Perfect TV #playthegift Campaign. He started his project "Stay Home Art Project" in April, 2020 where he has been posting portraits of celebrities requested by his Instagram followers.