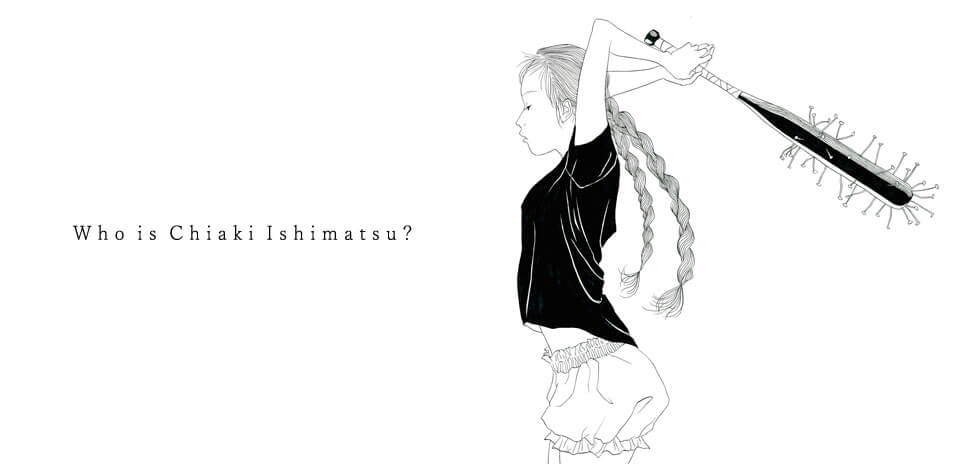 We are delighted to announce that three original works of art created by Japanese artist Chiaki Ishimatsu will soon be available on our website. (Release date: Sunday September 15th, at 21:00 JST / 7:00 EST) Before releasing these gorgeous pieces, allow us to introduce you to the artist .
Chiaki Ishimatsu Biography
Chiaki Ishimatsu was born in Shizuoka in 1994 and grew up in Aichi, Japan. At the age of 7 her father got transferred to the United States, where her family lived for one year. She had difficulty adapting to her school life because of the language barrier, but her artistic talent changed school from a tough place into a comfortable one. A drawing of a famous Japanese cartoon character named "Doraemon" drew the attention of her classmates, giving her the opportunity to make some friends. From this experience she quickly realized that art could be a powerful communication tool for her.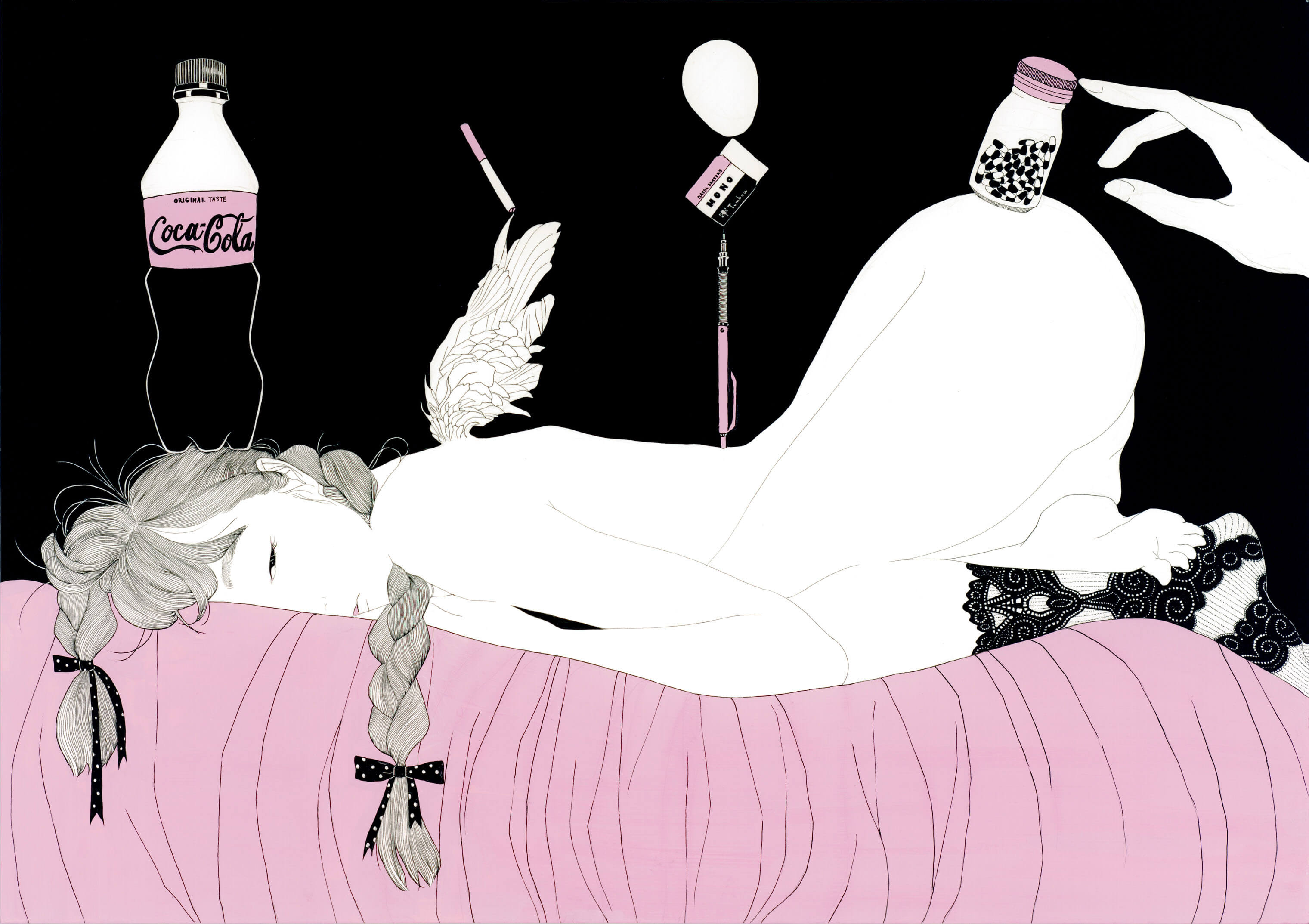 In 2009, Chiaki enrolled in a high school specializing in art where she hoped to explore her creativity. She gradually came to dislike art due to the tedious and repetitive nature of her drawing classes and eventually grew disinterested in it. As a result, her dream changed from wanting to be an artist to becoming a public prosecutor. She studied hard to pursue her dream and got accepted to Law school at Seikei university. Although Chiaki focused seriously on her studies for one year in university, an illness she suffered from caused her to reevaluate her priorities and she subsequently dropped out of the program.
In 2015, Chiaki participated in a group show entitled "Zakkubaran" which took place in Shizuoka and Tokyo. People visiting the exhibition admired and praised her works of art. From the positive reaction of the crowd she was able to realize her potential for art as a career. Around this time, she also started getting into masochistic literature and read over 250 books in one year. Masochism subsequently became one of the core themes throughout her creations.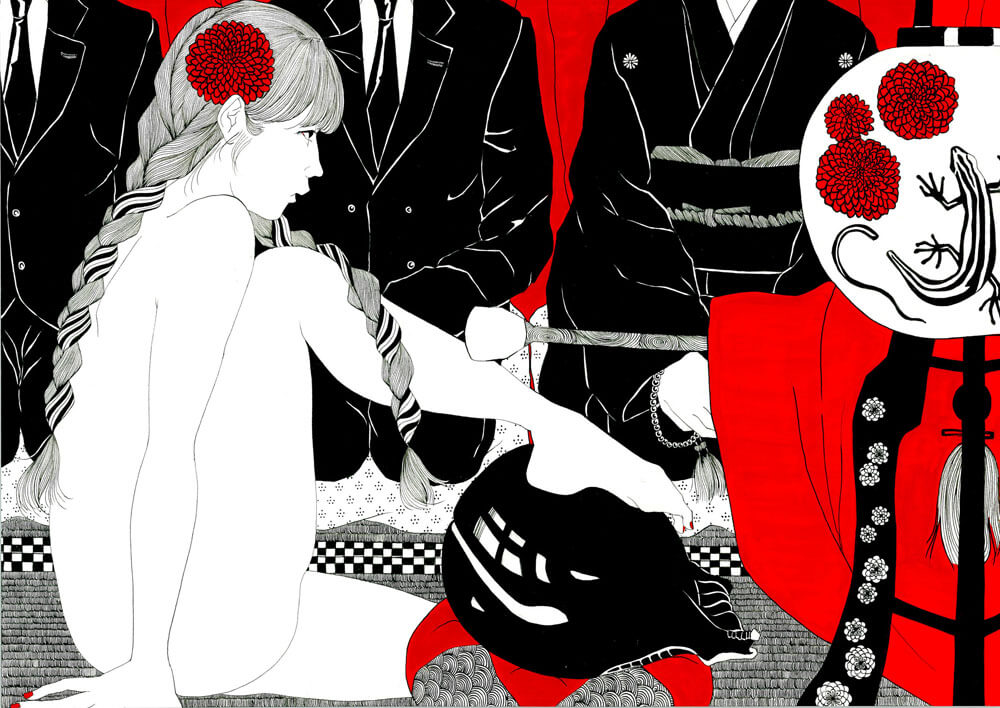 Chiaki began to work as an illustrator at a design company in 2017. She continued to gain confidence in her talent through that job and made the decision to become a full time artist. In the same year, she opened her first solo exhibition entitled "Fubijin-ga (Pictures of non-beautiful women)" in Aichi and the entire collection sold out.
A disturbing experience she had at a bank triggered her to work on this theme. After withdrawing some money at the ATM she turned around and heard one of the male customers in line say "she isn't pretty". From that incident, she became aware of how pervasive the narrow aesthetic of beauty was in Japanese society and made up her mind to express the importance of aesthetic diversity through her woks of art.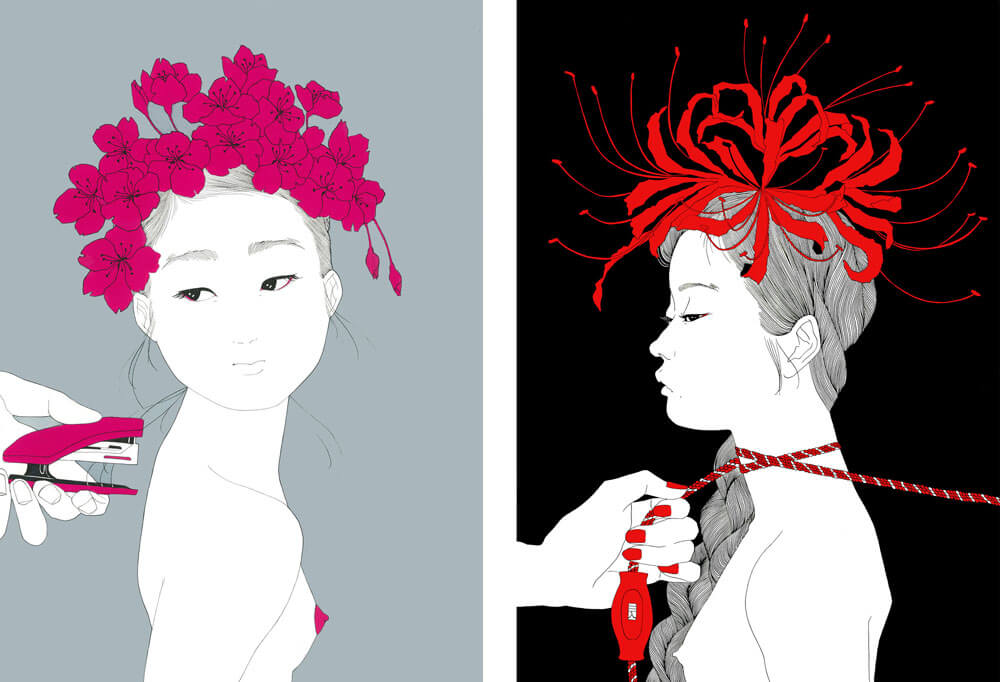 In 2018, her second solo exhibition entitled "Fubijin-ga 2" took place in Shizuoka. In addition, she participated in a number of group shows including "Erotic Higashi-Mikawa (Tokyo)", "Eto Et Cetera Exhibition (Tokyo)" "Young Shizuokan Artist (Shizuoka)", and "Art Art Art (Aichi)". Remarkably, Chiaki has so far won 6 prizes, beginning with accepting the 2009 best new artist award (out of over 200 applicants) organized by the famous Japanese art magazine "Gekkan Bijutsu".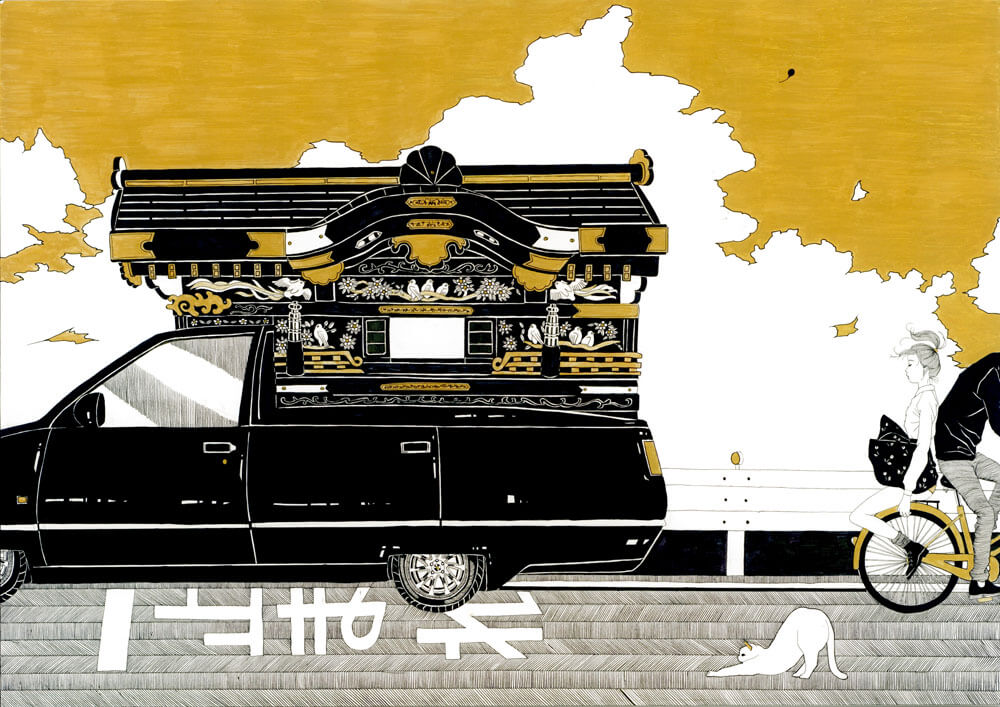 In 2019, Chiaki held two solo exhibitions. One in Aichi in March and one in Tokyo in May. Both exhibitions got a good reception from visitors, especially the one in Tokyo. In fact, almost all the pieces (17 out of 20) were sold during the 7 day exhibition in Tokyo. Recently, Chiaki was chosen for the 10th Anniversary Special Prize "Adachi Ukiyo-e Award" organized by the Adachi Institute of Woodcut Prints, famous for creating "Mt. Fuji in Seven Colours" painted by a Japanese contemporary artist, Yayoi Kusama as Ukiyo-e. Her painting will be created as Ukiyo-e soon. Chiaki will be participating in a group show in Scotland in November.
Chiaki Ishimatsu official site: https://chiaki1402.tumblr.com/