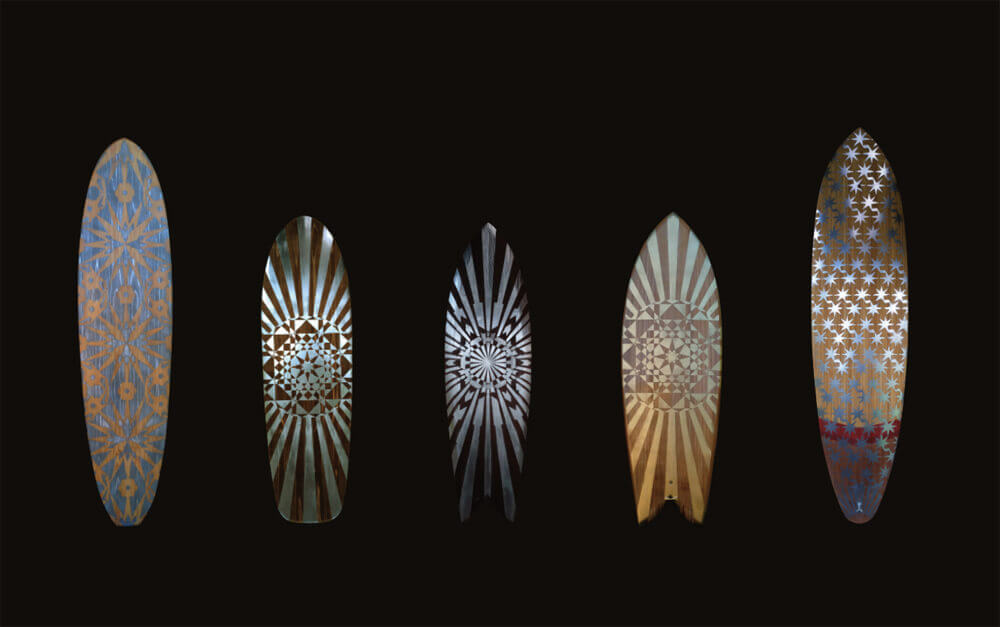 ©Akaike Kansuke
Shizuoka based artist Kansuke Akaike will be participating in the art festival "DESIGNART TOKYO 2020", taking place in and around Tokyo, starting October 23rd.
"DESIGNART TOKYO" is a yearly art and design festival held in the fall. DESIGNART TOKYO showcases many diverse objects and experiences through its exhibitions which are created in crossover fields of art, interior design, fashion, and food from around the globe to be presented at various locations in Tokyo, one of the world's most diverse cities in terms of culture.
Kansuke decided to participate in "DESIGNART TOKYO 2020" after he ran into Kweli surfboards master builder MASAYASU IWASAKI. His hand-crafted wooden surfboards sparked Kansuke's imagination tremendously and drove his motivation to create something. The beautifully shaped surfboards reminded him of the halo behind a Buddhist statue and Kansuke expanded his vision from the halo to lights, god, and the universe.
Kansuke predicts that the image turning into the halo of a Buddha statue has something to do with the fact that he had lived in Kyoto, a city studded with famous temples, as a young boy. Since the playground he spent his childhood at was on the grounds of a Buddhist temple, statues of the Buddha were familiar to him.
Kansuke will be exhibiting five brand new artworks stenciled and airbrushed onto a wooden surfboard for a group show entitled "Kami ha nichijou ni yadoru" (God dwells in everyday life.) as a part of "DESIGNART TOKYO 2020". We spoke to Kansuke recently about these new works of art. Here is what he had to say:
Since using wooden surfboards as a canvas already has an artistic nature, I focused on painting simple patterns with the theme of light. It would be the first time I created something so simple. I used metallic silver colour for my artworks. I painted an artificial decoration using metallic silver paint  to create a contrast with the more natural material of the wooden surfboard. Natural and artificial, fantasy versus reality. My new art pieces include opposing elements which are seemingly incompatible with each other.
If you are in the area, please make sure to stop by to check out his distinctive artworks. In addition to the exhibition, we will soon be releasing brand new stencil works created by Kansuke Akaike. Don't miss this opportunity to purchase his incredible artwork!
DESIGNART TOKYO 2020 -Kami ha nichijou ni yadoru-
DATES: October 23rd to November 3rd, 2020
VENUE: TOKYU PLAZA SHIBUYA 6F
VENUE HOURS: 11:00~23:00
CLOSED: Occasional closures
ACCESS: 〒150-0043 1-2-3 Dogenzaka,Shibuya-ku, Tokyo
WEBSITE: http://designart.jp/designarttokyo2020/en/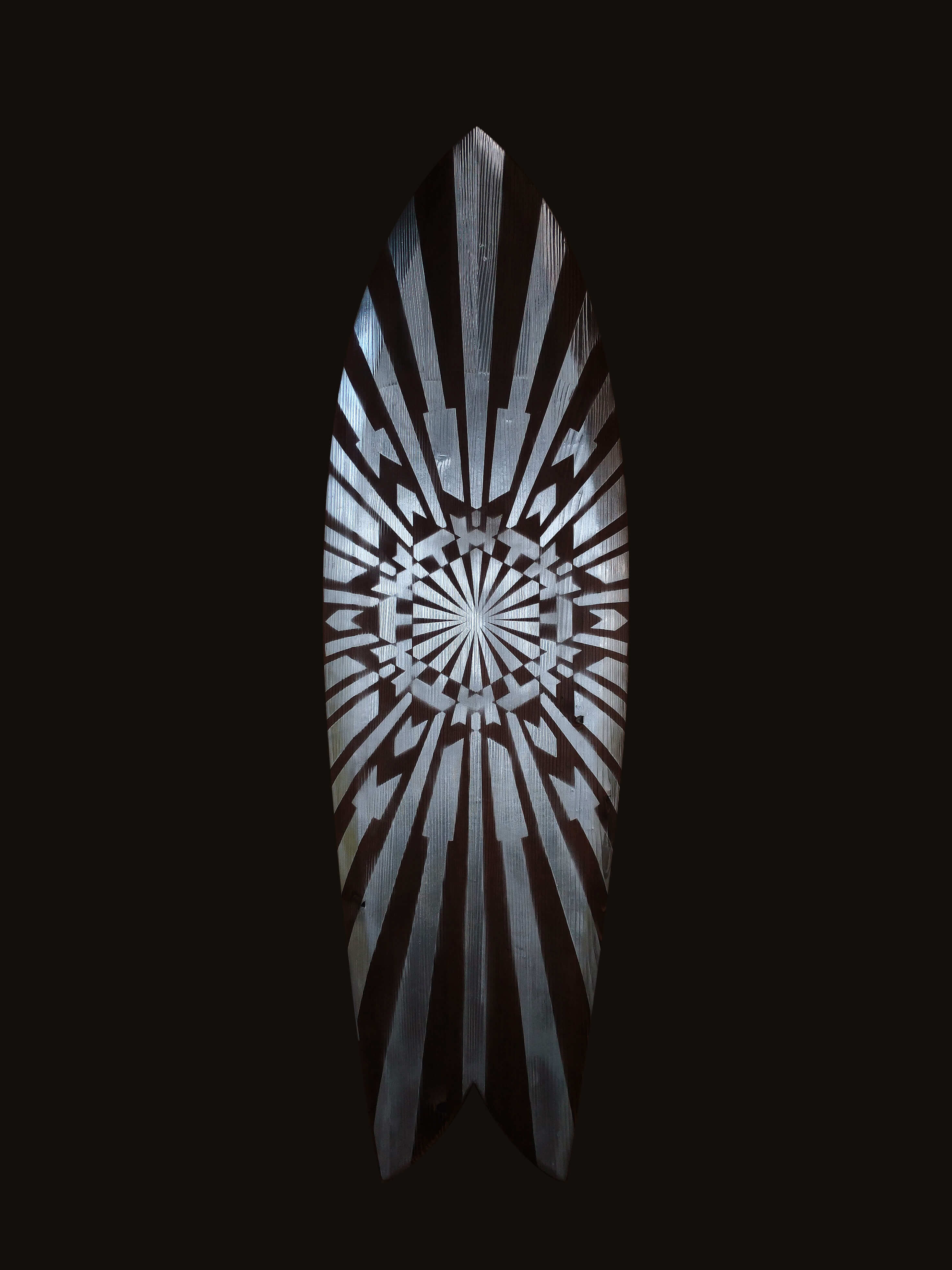 ©Akaike Kansuke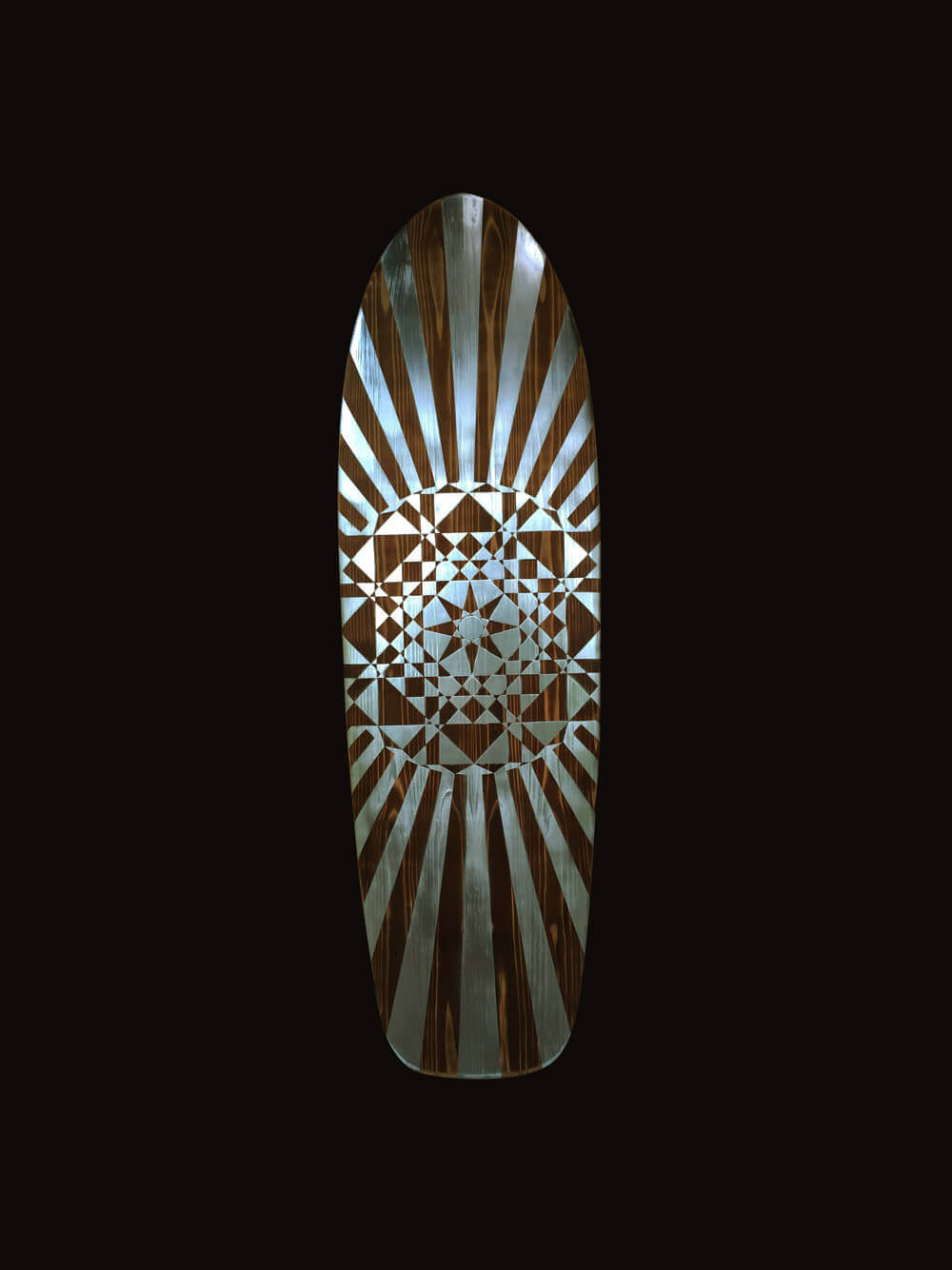 ©Akaike Kansuke
Kansuke Akaike
Kansuke Akaike is an artist who was born in Kyoto, Japan in 1974. His stencil art, delicately depicting realistic expressions of his subjects has been showcased at solo and group exhibitions both within and outside of Japan. His first solo exhibition outside of Japan "Dogs and Drive" took place in Sao Paulo, Brazil in 2007. He changed his base from Tokyo to Shizuoka in 2015. Kansuke then opened his solo show "The Sea for Everyone" in Kanagawa. This show had a theme of highlighting the issue of marine debris in our oceans. In addition to these shows, Kansuke designed posters for Wheelchair Basketball World Challenge Cup 2018 and the Hi-STANDARD x Sky Perfect TV #playthegift Campaign. He started his project "Stay Home Art Project" in April, 2020 where he has been posting portraits of celebrities requested by his Instagram followers
Kansuke Akaike official site
Kansuke Akaike Instagram
Reference:
・DESIGNART TOKYO 2020 official site